OfS student panellist Sam Dedman discusses what student engagement is and how you can make an impact at a national level by taking part in our student engagement survey.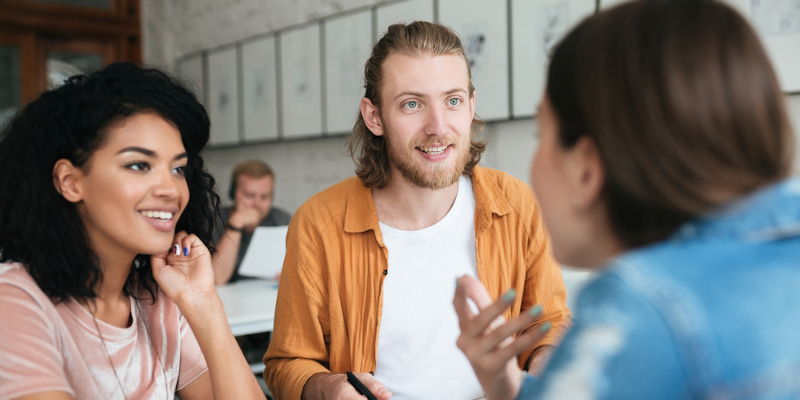 Before I go any further I want to say a massive congratulations to everyone who will soon be heading off to join the world of higher education. You've achieved a great deal and have some exciting times ahead!
Talking of which, picture this – you've just started university. You've made it through freshers' week (escaping freshers' flu in the process), have managed to successfully navigate your way to your first lecture, and have only become lost three times in the library.
In short, you're settling in alright.
And yet, something seems… off. It could be anything – the events run during freshers' week, the venues used for your lectures, or the lack of microwaves in the library. There's something which could be made better.
Up and down the country, universities, colleges and student unions have been engaging with their student body to help identify these issues and fix them. They've run online forums, held panels, hosted question and answer sessions and (in my experience) handed out a great deal of tea and cake. Things have improved, and it's all because of student engagement – open, honest conversations with a common goal of making things better.
Until a few months ago I was part of this process – I represented the students of the University of Southampton as their Vice-President Education. It was my job to advocate on behalf of the students who voted me in, ensuring that their voice was heard on everything from study spaces to timetabling – and yes, microwaves. And while it is easy to think that student engagement is only the job of your union, university or college, I think we all have a part to play.
So, what is student engagement anyway?
Student engagement is exactly what it says on the tin. It's the process of engaging all members of the student community, often to seek their views and opinions. It's the bread and butter of elected student representatives up and down the country, ensuring that the voice of students at their university or college are listened to and respected.
But student engagement goes far beyond a single higher education provider. Measures such as the National Student Survey and organisations like the National Union of Students canvass the views of students and use them to improve the student experience.
And now the Office for Students has started to shape its student engagement strategy. As the regulator for higher education in England, it has the difficult task of canvassing the views of students from a huge range of backgrounds, providers and walks of life.
For this reason, the OfS has brought together a student panel, made up of students from a range of different backgrounds and stages in their higher education journey. I've sat on this panel since the start of this year, and we've already spent a significant amount of time discussing how we see the organisation engaging with students on a whole variety of matters.
How can you get involved?
The Office for Students recently launched a survey to find out how you think it should engage with students. The results will inform its student engagement strategy, so it's your opportunity to make a real impact on a national level. Should students know about the OfS? Should they be involved in its work? Does it matter?
The strategy will only be meaningful if it's designed with students in mind, and as such, I would urge you to complete the survey. It's quick, simple and a great way to make your opinions heard.
And if all of this has inspired you to get involved in student engagement at your university or college, a good place to start is with your local students' union, guild, association or course representative system. Find out what sort of engagement work they do and how you can make a difference. Some roles may be by appointment, some may be by election. All are an excellent experience and will lead to you making some fantastic friends.
Student engagement doesn't have to be time-consuming. It doesn't have to be boring. And it doesn't have to be done alone.
Complete the OfS student engagement survey
The student engagement survey closes at midnight on Friday 13 September 2019.