When we talk with students about the issues that worry them most, mental health consistently tops the list.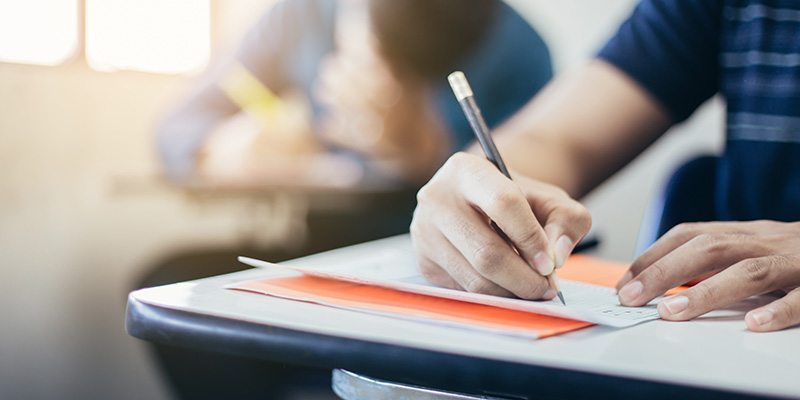 According to HESA data, over the last three years the proportion of UK students going into higher education with a declared mental health condition has doubled – from 1.6 per cent to 3.2 per cent. And once they arrive – often in a completely new environment - students face many new pressures. This week it was reported that a new poll of almost 38,000 UK students found that more than 87 per cent say they struggle with feelings of anxiety, and these problems are highest among those in their second and third years.
Mental health is a top priority for the OfS. Our aim is that students are supported to access, succeed in, and progress from higher education. For students to thrive, wellbeing is vital – and good mental health is an essential ingredient.
Today, on University Mental Health Day, conversations and events are taking place at universities, colleges and other higher education providers around the country, giving students a voice on mental health and shining a spotlight on the issues affecting them.
And today's announcement by the Education Secretary of a new Education Transitions Network is an important development. We look forward to joining this taskforce as it looks at the issues facing today's students and supports them in dealing with the challenges that starting in higher education can pose.
There is also a lot of other work under way on this vital issue, and today is a good opportunity to take a look.
Under pressure
As with physical health, we experience mental health on a spectrum ranging from good wellbeing to mental ill health. Even those with good mental health can experience challenges which affect their wellbeing – whether moving from home, juggling part-time study with other commitments, feeling financial pressures, or progressing from one year to the next.
Amid these pressures, students tell us that it can often be difficult to access support. But things are changing. Many universities and colleges are working on practical steps – both to sustain wellbeing, and to provide support when mental ill-health arises. And many – as we expect them to – are adopting strategic approaches, including prevention and early intervention, which are embedded throughout the university or college, 
Practical steps
In September an OfS-funded guide to help higher education leaders prevent student suicides was published by Universities UK (UUK) and Papyrus, the UK charity dedicated to the prevention of young suicide.
Last week Student Minds published new guidance and resources for universities and colleges co-creating mental health strategies with students. Produced together with UUK and several universities, this resulted from an OfS-funded programme, Addressing Barriers to Student Success.
Another funding programme is working on support for the mental health and wellbeing of postgraduate research students, with £1.5 million invested from March 2018 to January 2020 in 17 projects overseen jointly by Research England and the Office for Students.
Impact on outcomes
Our work focuses not only on the experience of students but also on the outcomes they achieve in terms of continuation of study, attainment and progression.
Later this month we will publish access and participation datasets which, for the first time, will include national summary data on outcomes for students with declared mental health conditions.
Meanwhile, a number of studies have highlighted a correlation between outcomes and mental ill-health. For example, in a Unite Students study, two-thirds of those with a declared mental health condition had thought about dropping out of higher education compared to one-third of those without.
These gaps have to be tackled. We have included in our new access and participation plan guidance the expectation that every university and college will seek to understand where these gaps exist and why, and put in place effective mechanisms to eliminate them.
Innovation
But as well as guidance, to create a step change the sector must find new solutions. So in 2018 we committed to invest around £6 million in projects developing innovative approaches to mental health improvement and support for students. Around 50 projects involving over 180 organisations submitted proposals to the funding competition. With this level of interest, I see a real commitment to transforming mental health support.
We want to encourage collaboration between the different groups involved in mental wellbeing – for example, higher education providers and local health services working together to prevent people facing difficulties from 'falling between the cracks'. The bids consistently demonstrate collaboration between different organisations and partners. With student engagement also vital, many bids focus on joint projects with students to improve outcomes. Strategic commitment from senior leaders is strong, and project partners are committing their own funding too – which will significantly boost the overall investment.
We expect the successful projects to develop innovative approaches that can be shared right across the sector. We will evaluate impact, explore which approaches could be scalable, and use what we have learnt to inform future priorities.
Creating a new charter
It is also hugely positive that work is under way on the Mental Health Charter, which promises to place the issue at the centre of higher education providers' priorities. Working in partnership with the OfS and other organisations, Student Minds is developing the charter – with a series of events kicking off this week to understand the evidence and the experience of those on the ground.
There is much work still to be done on this complex issue. But I am very encouraged by the momentum for change that I am seeing. We are determined to help maintain this momentum – working closely with agencies including UUK and Student Minds, with providers and with students themselves – to help improve wellbeing so that all can thrive and succeed in higher education.