Mature students are turning away from nursing and specialist healthcare courses. Ed Hughes discusses how we need to work together to make sure they're supported.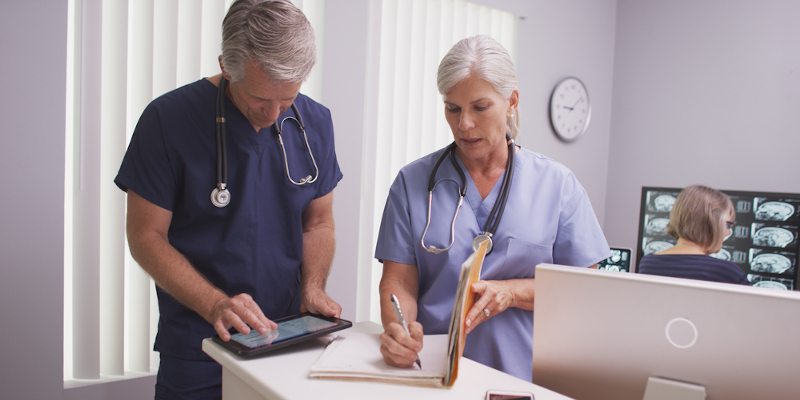 Healthcare courses have long attracted more mature students than almost any other area of higher education. Mature students studying these courses often say they have been inspired by the healthcare that they, or a family member, has received. A positive experience of care from a podiatrist, orthoptist, nurse or midwife is one of the best advertisements for these rewarding areas of study and work. At the same time, mature students bring to these courses invaluable life experience, and are highly regarded by universities and employers alike.
However, research published by the Office for Students (OfS) earlier this year suggests that the removal of NHS bursaries has led to a marked decrease in the numbers of applications from mature students for these courses.
Yesterday's data release on changes in healthcare student numbers paints the same picture: there has been a 15 per cent drop in mature students between 2016-17 and 2017-18. University and college admissions tutors tell us a similar story about the decline in mature applicants in subjects such as podiatry and learning disability nursing.
The OfS's role in healthcare education
The OfS is allocating £1 million a year for three years to improve awareness and uptake of courses in vital disciplines such as podiatry, therapeutic radiography, prosthetics and orthotics. This forms part of our wider investment of more than £90 million in 2019-20 in healthcare education.  
The SIHED programme (strategic interventions in health education disciplines) is taking action on a number of fronts, including more promotion of specialist healthcare roles, and research into barriers preventing prospective students – including mature students – from engaging with them.
Help with course and maintenance costs
Affordability and value for money is a key consideration for anyone thinking about higher education. But this can be of even greater concern for mature students, who typically have more financial commitments. Caring responsibilities, keeping up mortgage repayments, or concerns about day to day living costs: the reasons to put off an application can stack up.
For any prospective healthcare student thinking about how to finance their studies, it is worth remembering that:
You may be able to borrow money to help pay for university or college tuition fees and to help with living costs. The maintenance loan includes an amount that is not means tested and is higher than the amounts students were able to access under the NHS bursary scheme. You can get a higher loan if you're on a low income. You might also get extra grant money on top of this, for example if you are disabled or have children.
You only start repaying your student loan once you earn over a certain amount. The size of your monthly repayments will depend on how much you earn, not what you owe.
Typically, for someone in an NHS Band 5 role earning £26,220 per year in England or Wales, you will pay £9 per month. If you take a career break, or cut your working hours, your repayments are suspended or reduced accordingly. If you have not paid back the full amount of the loan after 30 years, it will be written off.
New pre-registration postgraduate nursing, midwifery and allied health students can access the same student loans system as undergraduates and other students.
Healthcare students can still be reimbursed for costs associated with work placements – for example, if they need to travel further to their placement than they would to university, or if they need dual accommodation.
Child dependant grants to help with child care costs are available from both the Student Loans Company (SLC) and NHS Business Services Authority (NHS-BSA).
Details of a wide range of support, including grants for students with adult dependants and options for healthcare students to take out a second student loan, are on the I See the Difference website.
On top of this, many universities offer extra money in the form of scholarships or bursaries to help with the cost of going to university. These are in addition to student loans, and you don't have to pay them back.
Increasing awareness
If we are going to encourage more mature students to apply for these courses, partners across the health and higher education systems need to work together. It will take a collaborative effort to make sure financial support is taken up, and that information is presented clearly to help prospective students choose between the different routes into a career in healthcare.
We must also continue to listen to feedback from students and higher education providers on what more can be done to support students interested in entering these valuable careers.
Career opportunities
Nursing, midwifery and allied health continue to offer excellent study and career opportunities for mature students. Graduate employment is high (often over 95 per cent) for allied health, nursing and midwifery courses, and can lead to further opportunities for those interested in career progression.
Above all, what motivates most people in these areas of study and work is the opportunity to work directly with patients and make a difference to people's lives every day. The range of support on offer is intended to make this possible for prospective healthcare students at any stage in their life.