The data breaks down the numbers of students starting nursing, midwifery, and allied health courses from 2016-17 to 2017-18.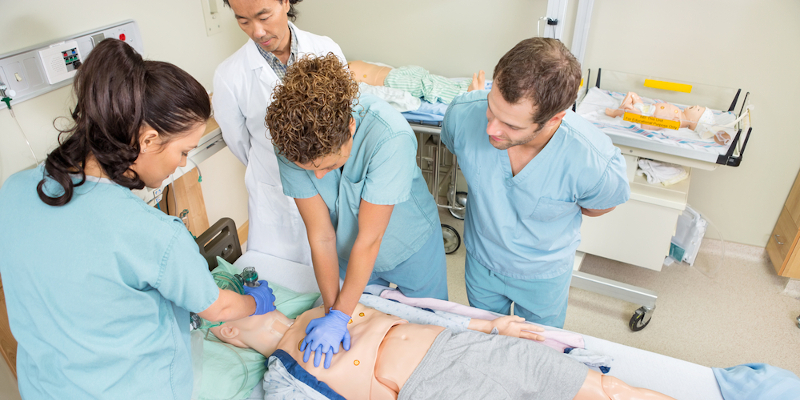 From 2017, funding reforms to pre-registration healthcare university courses meant that students could access loans to cover tuition fees and living costs rather than non-repayable bursaries and gave universities more flexibility in the provision of healthcare courses.
Data published by the Office for Students (OfS) today shows the short-term changes in recruitment following these reforms.
Among the findings, data shows that from 2016-17 to 2017-18:
There was an 11 per cent drop in the number of students starting nursing courses (19,790 down to 17,630). Students aged over 21 dropped by 17 per cent (12,015 down to 9,960)
There was a 3 per cent increase in students starting midwifery courses
There was little overall change in the number of entrants to allied health courses, with some courses growing and others decreasing. For example, physiotherapy increased by 19 per cent (250 students), while podiatry decreased by 19 per cent (45 students)
Overall, the number of young entrants to healthcare courses increased by 4 per cent, while the number of mature students decreased by 15 per cent
Overall, there was a slight increase in entrants from the lowest POLAR4 quintiles (areas of lowest participation).
Recruitment in 2016-17 was high, and in some cases the drop in student numbers may be a return to normal following an increase in those starting before the reforms. The full impact of the reforms will not be evident until more years of data are available.
Yvonne Hawkins, Director of Teaching Excellence and Student Experience, said:  
'The reduction in nursing and healthcare students is a concern for the health workforce of the future. We are working in partnership with universities, Health Education England, NHS England and representative bodies to increase the numbers of healthcare students and there is emerging evidence that this work is starting to have an impact. 

'The OfS is supporting a number of innovative projects to boost take-up and development of specialist healthcare courses – as well as providing direct additional funding for the delivery of high-cost healthcare subjects. This data will help universities to identify gaps and opportunities to increase recruitment and ensure that the country is provided with the next generation of highly-trained health professionals.'
As part of the data release, the OfS has published a series of interactive charts which show the change in the number of entrants to each discipline and the proportional change relative to 2016-17. These changes can be viewed split by age, ethnicity, disability, sex and area-based measures of financial and educational disadvantage.
See the data
Notes
This data release contains student data for all undergraduate entrants studying on pre‑registration healthcare courses at English higher education providers. The data source was the Higher Education Statistics Agency (HESA) student record for academic years 2016-17 and 2017-18.
This data shows the changes in the number and profile of entrants to nursing, midwifery and allied health (NMAH) courses between 2016-17 and 2017-18. The number of entrants to all undergraduate courses at English higher education providers are provided for comparison. Pre-registration courses are healthcare courses that are accredited by professional, statutory and regulatory bodies and lead to initial registration in a profession.

Strategic Interventions in Health Education Disciplines (SIHED). Government funding for nursing, midwifery and allied health courses transferred to the Higher Education Funding Council for England/OfS from September 2017, and the SIHED programme is part of a package of support for small, specialist health disciplines in these areas. Find more information on the SIHED programme.
For wider contextual data on acceptances to nursing courses, see the UCAS 2018 end of cycle report.