New data for artificial (AI) and data science postgraduate conversion courses shows greater diversity, including high admissions from Black students, women and disabled students.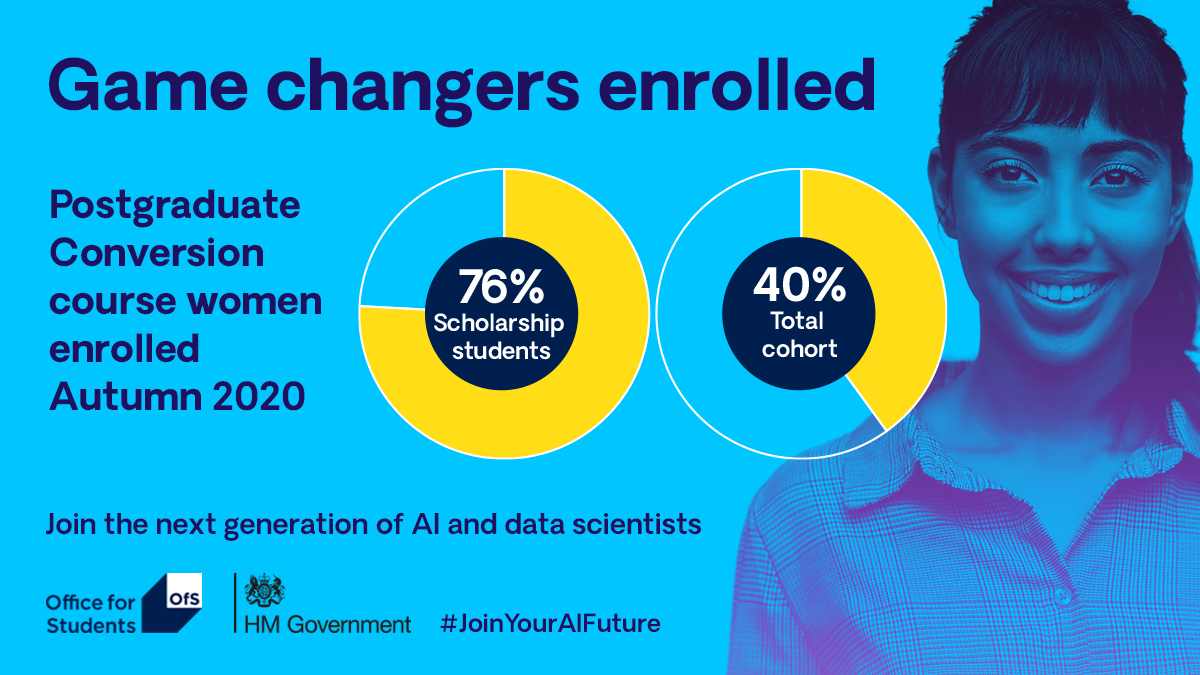 When was the last time you asked Alexa to play your favourite song while cooking, used a satnav to navigate to a friend's house, or noticed that your Facebook profile is advertising that pair of trousers you were just browsing online?
Artificial intelligence and data science is being used everywhere to make our lives more convenient. According to the government's Digital Strategy, within 20 years, 90 per cent of jobs will require some elements of digital skills. To respond to this demand, in partnership with the Department for Digital, Culture, Media and Sport and the Office for AI, the Office for Students has funded 18 universities across England to deliver postgraduate conversion courses in AI and data science. The courses are aimed to equip students with the skills they need to join the UK's digital transformation and begin a career in an industry that has the potential to address some of the most significant global problems.
Today the OfS has published admissions data that indicates increasing diversity on the courses. Around 40 per cent of the total students enrolled are women, a quarter are Black and 15 per cent are students who are disabled.
As part of the funding, 1,000 scholarships worth £10,000 are awarded by the universities to students from groups traditionally underrepresented on these courses. Over three-quarters (76 per cent) of these students were women, nearly half (45 per cent) were Black and almost a quarter (24 per cent) were disabled. This data shows that not only are more students from diverse backgrounds applying and accessing the courses, but it also indicates a positive change which will begin to address some of the inequalities experienced in the tech sector.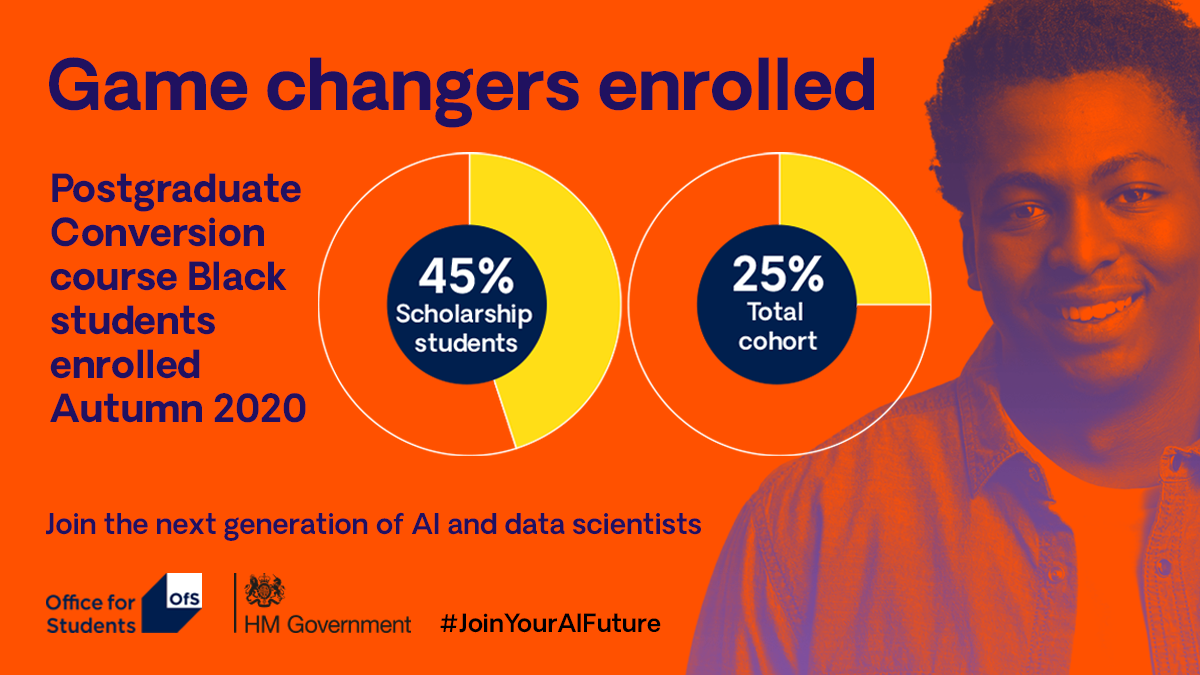 Artificial intelligence biases create an artificial world
According to the Office for National Statistics, just 17 per cent of the tech workforce are women. This needs to change if the UK is to engage a broad variety of different organisations and skillsets to realise its potential to grow AI in the UK, as recommended in the government's review of the sector. The sector needs to adapt. An international women's day article aptly described artificial intelligence as a 'mirror for ourselves'. Machine learning works by taking in a data set that is aimed to reflect society and using it to form 'rules' that perform certain behaviours. If there are gaps in the data set, it is not only unrepresentative, but biases are built in from the beginning. The consequences can range from the seemingly trivial such as sat navs not recognising accents, to much more serious consequences, such as algorithms predicting the tendency of a convicted criminal to reoffend.
Dataset biases and a lack of representative testing in artificial intelligence creates an artificial world. But it isn't just the data that needs addressing. Students' priorities are changing. The current undergraduate student cohort are GenZ (born after 1995) and have grown up with technology throughout their lives. 82 per cent of them believe university is the best way to progress to a better future and they devote more time to learning and less to working, until they graduate. However, the reality is also that many students including mature students, have families, other caring responsibilities and need to work alongside study, may not always have higher education as an available option.
Flexible study for increasing representation
The coronavirus pandemic brought online, flexible methods of teaching to the fore. While there have been many lessons learned throughout this process which are being captured in the OfS digital learning review, digital learning has demonstrated the potential for giving students the opportunity to manage their time and commitments alongside their studies. The conversion courses have been set up with these factors in mind, providing students with flexible study options and a paid work placement with each course to maximise networking opportunities and graduate employability.
The courses provide an opportunity for students to redirect their careers, train in a new subject or transition from an academic to a vocational subject. For some courses, students don't need to have studied a traditional STEM subject at undergraduate, so we encourage any student with an interest in the subject to apply.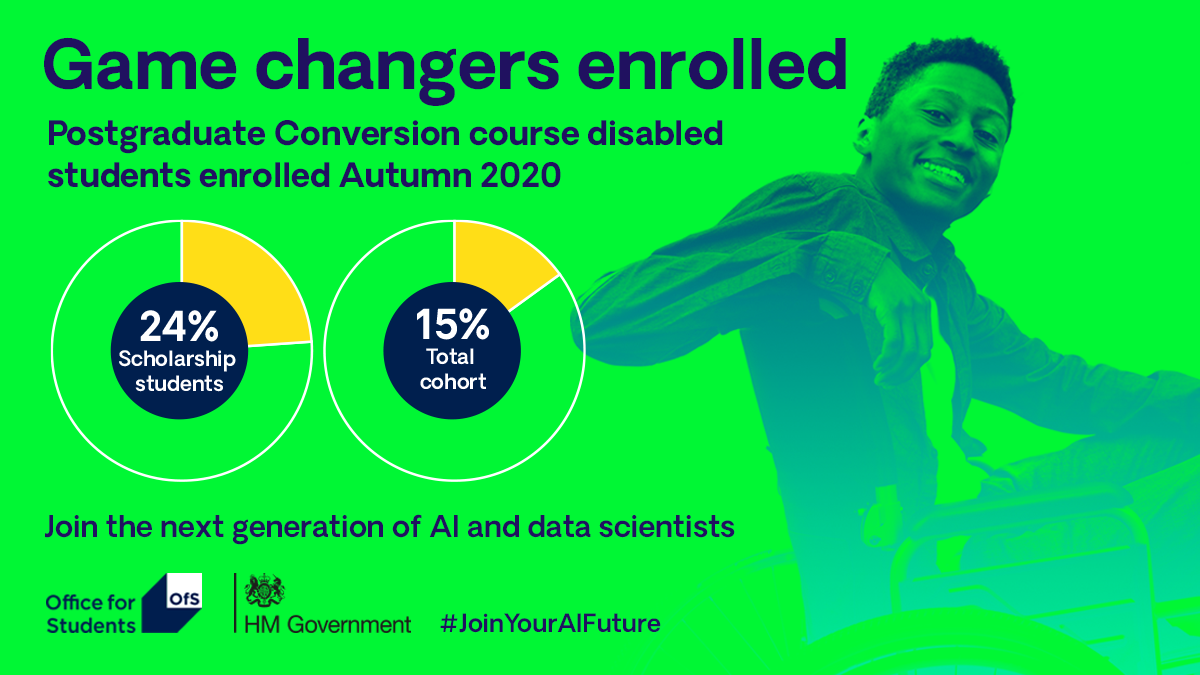 How to find out more
Universities are continuing to recruit for courses beginning in January 2021 and the programme will run until 2023. We've published a package of information for students, FAQs and a full list of participating universities.
See information for students about the programme
We encourage universities, students and mission groups to share this opportunity with anyone who may be interested. Please contact the team at [email protected] for more information and a social media pack.