10 new students will join our student panel for 2020.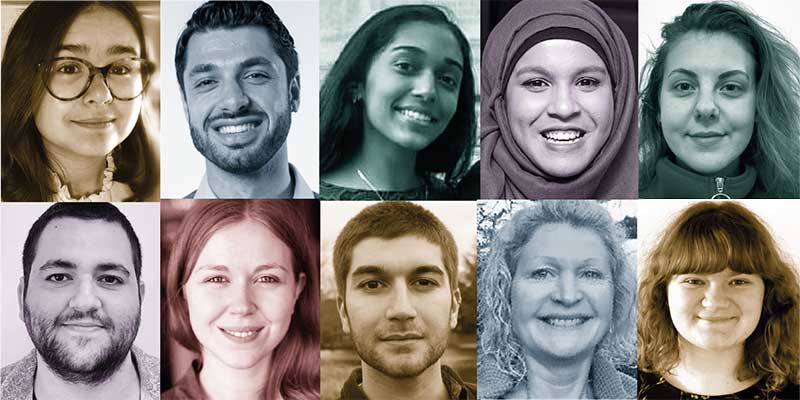 After receiving almost 900 applications, the Office for Students (OfS) has appointed 10 new members to its student panel, which meets regularly throughout the year to advise the OfS and ensure that students' interests are reflected in everything we do.
The new panellists are (in image order from left to right):
Aimear Wolstenholme, who is about to start Year 13 and is hoping to study medicine
Ramy Badrie, who was an international law student before undertaking a sabbatical to assume his current role as Vice-President Education at the University of Brighton Students' Union
Nikhita Nachiappan, who has recently finished her A-levels having been a house captain and prefect at school, and is hoping to study politics and international relations at university in September
Maisha Islam, who is a Student Engagement Research and Projects Officer at the University of Winchester and studying part-time for a professional doctorate in education
Bryony Toon, who is a law student at the University of Oxford with a specific interest in access to higher education for care leavers and students from disadvantaged backgrounds
Erk Gunce, who recently completed a postgraduate degree in education management at King's College London and has a particular personal interest in the disadvantages faced by disabled, ethnic minority and queer students
Miranda Harmer, who is a postgraduate student at Leeds Conservatoire studying cello performance and composition, and chair of the Student Network for the Association of European Conservatoires, former chair of Conservatoires UK Student Network and former President of Leeds Conservatoire Students' Union
Francesco Masala, who graduated from the University of Bath in 2019 with a degree in politics and international relations, was the Students' Union Activities Officer for 2019-20 and is now President of the Students' Union
Jo Barlow, who is a mature student studying English literature part-time with the Open University
Molly Lawson, who is a history student at Lancaster University and is looking forward to representing disabled and traveller students.
The new panellists will take up their posts from September and will, along with the panellists who are continuing from 2019, meet at least four times throughout the next year. Meetings will be chaired by Martha Longdon, the student experience member of the OfS board. Martha said:
'We received an incredible 890 applications for the student panel this year – almost six times more than last year ­– and once again, these applications were of an exceptionally high standard, so this really was a very competitive process.

'We were delighted and really encouraged by the diversity of students who chose to apply to the panel, many of whom come from groups which are often underrepresented and underheard in the higher education sector.

'I would like to say a huge thank you to our outgoing panellists who have been part of the student panel since it launched in 2018. Their voices have been integral in informing the OfS in key policy areas, but also in shaping the panel itself.

'This year we have appointed 10 new panel members, each of whom was an outstanding candidate in an exceptionally strong field. The experiences and perspectives of the new panel members complement very well the existing expertise on the panel. While it isn't possible to capture every student experience in a panel of 16 people, I am confident that this year's panel reflects the diversity of the wider student population. Collectively they will have a strong and inclusive voice, which is vital to ensuring that the views of all students are reflected in the OfS's work over the challenging year ahead.

'Thank you to everybody who expressed an interest in being part of the panel and huge congratulations to our 10 new panel members. I look forward to working with all of the panel over the coming year.'
Nicola Dandridge, chief executive of the OfS said:
'We were blown away by both the quantity and quality of applications to our student panel this year, so I am delighted to welcome these new members. I know they will make an outstanding contribution to the panel and look forward to working with them to ensure that the OfS has students' interests at the heart of everything we do.'
Alice Richardson, Chad Allen, Lizzie Pace, Ruth Carlson, Shakira Martin, Shraddha Chaudhary, Sinead Brown and Zahra Choudhry stepped down from the panel at the end of January. We would like to thank them for all their hard work over the last two years and wish them all the best in the future.
See full details of our student panel