Results from this year's National Student Survey (NSS) published today show an increase in students rating their access to resources positively, while views of teaching quality still lag behind pre-pandemic levels.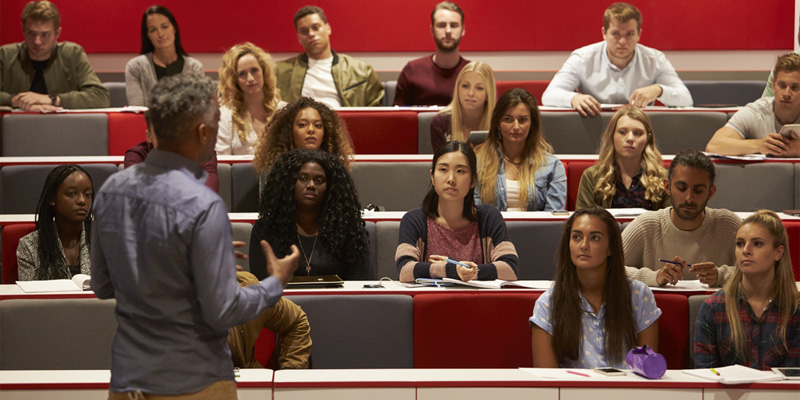 The survey – one of the largest of its kind in the world with almost 325,000 responses across the UK this year – highlights some overall improvements in students' views about the quality of their education, with significant variation between individual universities and colleges.
There is also variation in the views of students studying different subjects – with 89 per cent of veterinary students positive about the quality of teaching on their course, compared with 76 per cent of computing students across the UK. While many subjects have shown signs of post-pandemic recovery, there is a small further dip in positive ratings for medicine and dentistry, and physical sciences, on the teaching quality questions.
Nevertheless, as face-to-face learning resumed for most courses, the NSS showed majorities of students rating their overall view of their course positively. There was a marked increase in the percentage of students reporting positively on their access to learning resources for their course, with 81 per cent of students in England agreeing with the statement in 2022, compared with 73 per cent in 2021. Overall, 80 per cent of students gave positive responses about the quality of their teaching, which is unchanged from 2021, but a reduction from 84 per cent in 2020.
Other findings from the survey showed that, for students studying in England:
77 per cent (compared with 72 per cent in 2021) agreed that IT resources and facilities supported their learning well
84 per cent agreed that staff explained things well, representing no change from last year
65 per cent (compared with 64 per cent in 2021) agreed their course was well organised and running smoothly
71 per cent (70 per cent in 2021) agreed that changes in the course were communicated effectively.
The survey asks students questions about a range of factors related to their academic experience, including the teaching on their course, assessment and feedback, and how well courses are organised.
Susan Lapworth, interim chief executive of the Office for Students, said:
'This year's graduates bore the brunt of the pandemic, with much of their time at university affected by lockdowns and other restrictions on student life. The NSS has played an important role in capturing students' views during this extraordinarily difficult time for students and university staff. This year's results show that there is still more to do if students' views of the quality of their course are to improve to pre-pandemic levels. This should be an immediate priority for many universities and colleges.

'Universities and colleges have – by and large – worked hard to return to in-person teaching and ensure students have access to the facilities they need for successful study. It is, therefore, welcome to see a marked increase in the proportion of students agreeing that the resources universities and colleges offer are up to scratch. But on this – and every measure – there are substantial differences in students' views depending on which subject they study.

'Each university and college will now want to reflect on its results to ensure that the quality of courses remains high. The OfS is stepping up its interventions to ensure that students from all backgrounds have a high quality education and we will draw on NSS outcomes to inform our work.'
The data from this year's NSS will be published on the Discover Uni website in early autumn, providing valuable information to inform students' choices about what and where to study.
See the full set of data for NSS 2022
Notes
This year's NSS was open to students from 6 January to 30 April 2022.
324,329 students responded to the survey, a 68.6 per cent response rate.
Questions were asked on a five-point scale: Definitely agree; Mostly agree; Neither agree nor disagree; Mostly disagree; Definitely disagree.
The OfS is implementing the findings from the NSS review to ensure the continuing relevance of the survey. This review includes changes to the way data is reported, improved guidance to assist universities and colleges and to prevent inappropriate influence on the responses of students.