Eighteen universities have been awarded funding to launch innovative postgraduate conversion courses in artificial intelligence (AI) and data science.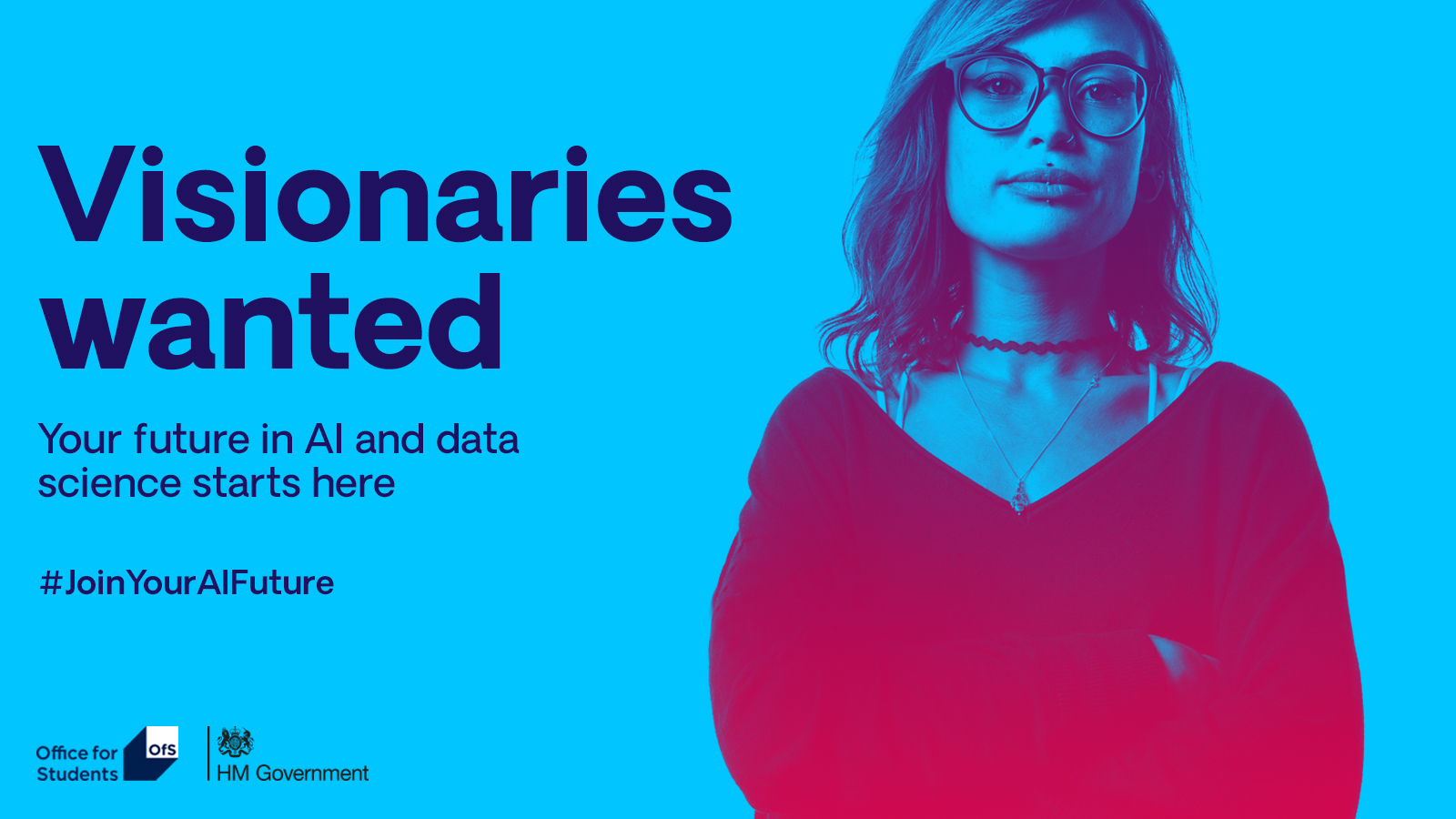 £13 million has been awarded to universities across England to boost the number of graduates in AI and data science technologies over the next three years.
This follows a competitive bidding process run by the Office for Students (OfS) to deliver the funding on behalf of the Department for Digital, Culture, Media and Sport (DCMS), Department for Business, Energy and Industrial Strategy (BEIS) and the Office for Artificial Intelligence (OAI).
Through specialist teaching and paid work placements, the conversion courses will allow graduates from both STEM (science, technology, engineering and mathematics) and non or far STEM subjects to significantly boost their digital skills – helping to address the shortage of AI and data specialists joining the UK workforce.
The programme aims to target graduates from backgrounds often underrepresented in these industries, particularly female, disabled and black students. Of the total £13 million funding awarded, £10 million will be used for scholarships to support students from underrepresented groups.
While funding awards to institutions have now been confirmed, the OfS will work with universities to determine what can be reasonably achieved due to the coronavirus (COVID-19) outbreak. This may include agreeing revised timescales or changes to planned activities. This approach recognises that providers and individual projects are likely to be affected in different ways during this period.
The universities which have been awarded funding and are developing postgraduate conversion courses are:
University of Keele
Solent University
University of Newcastle upon Tyne
Birmingham City University
University of Wolverhampton
Loughborough University
Teesside University
The University of Birmingham
Nottingham Trent University
University of Suffolk
University of Liverpool
Brunel University London
University of Sussex
University of Essex
University of Hull
Sheffield Hallam University
University of Bradford
Institute of Coding (IoC) consortium led by Coventry University:

Aston University
University of Bath
Birkbeck, University of London
University of Exeter
University of Gloucestershire
Lancaster University
Manchester Metropolitan University
Queen Mary University of London
University of Sunderland
University of the West of England.
Start dates for the conversion courses are to be confirmed. See more information on the courses available at each university.
The data science and AI courses developed by these universities will teach skills relevant to a wide range of industries, including medicine, transport, social sciences, biosciences and sports business. AI is being used in innovative ways in many fields, for example in countering online abuse, detecting early signs of disease, and driving improved support for at-risk communities such as refugees.
For more information contact [email protected].
Read more about the funded projects
Notes
The Government's Digital Strategy predicts that, within 20 years, 90 per cent of all jobs will require some element of digital skills. The Industrial Strategy states the UK's ambition to generate good jobs and greater earning power for all; addressing skills shortages is a key component of the artificial intelligence and data 'grand challenge' which aims to remove retraining barriers, normalise career changes and drive diversity. This funding aims to address these issues by working with universities and industry to allow people from non-STEM backgrounds to train in artificial intelligence and data science.
Artificial intelligence (AI) is the theory and development of computer systems able to perform tasks normally requiring human intelligence, such as visual perception, speech recognition, decision making, and translation.
A conversion course may be aimed at either upskilling someone with capabilities and expertise to enhance those they have already or equipping them with entirely new capabilities and expertise aimed at a career change. The skills and competences offered by such courses are applicable to a wide range of professions: from jobs requiring highly technical data science and engineering knowledge, to broader business and management process roles.
These courses are the latest stage of the government's support for strengthening the UK's artificial intelligence talent pipeline and represent the delivery of another of the key commitments in the £1 billion AI Sector Deal. The AI Sector Deal sets out how artificial intelligence and data will bring economic growth to the UK.