Mike Thompson of Aimhigher West Midlands explains how they're working with recent graduates who offer peer-to-peer outreach to young learners in their target schools.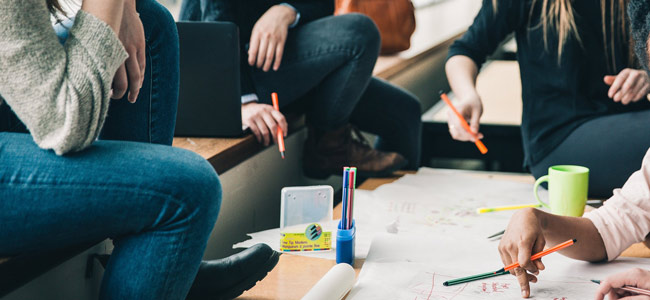 As part of the National Collaborative Outreach Programme (NCOP), Aimhigher West Midlands knows the importance of linking higher education outreach to the specific needs of schools and colleges, and their young learners.
In our local area we spotted an opportunity to connect students with other young people like them who had already been through university, and the Aimhigher Progression Ambassador programme was launched.
Peer-to-peer mentors in action
Aimhigher Progression Ambassadors (APAs) are recent graduates who work as mentors and facilitators in two schools or colleges, each for two days a week. APAs mentor selected students on a 1:1 and small group basis while working with the wider NCOP cohort to deliver activities focused on raising aspiration, developing parental engagement and providing information, advice and guidance. They also facilitate access to programmes offered by higher education provider partners.
Lewis Hickman is Aimhigher's APA in Bartley Green School, which he attended before studying Drama at Manchester Metropolitan University. Talking about his role, he says: 'Building a rapport with pupils and seeing them respond and be passionate about their future is the best thing about the job.'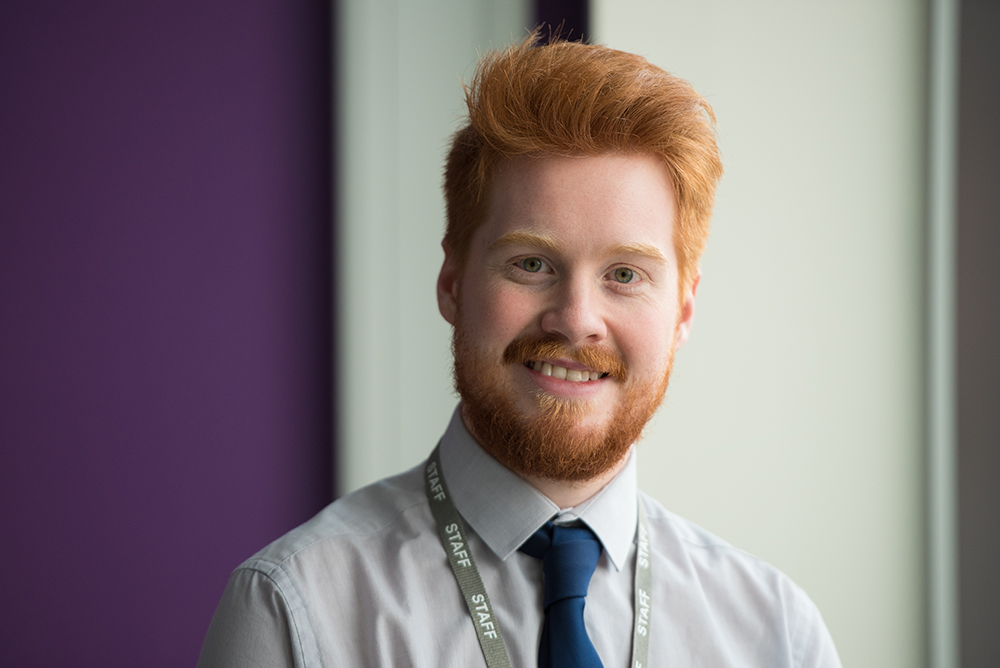 Our overall model of outreach with schools and colleges is augmented by undergraduates delivering project-based activity and interventions commissioned from third-sector organisations. Schools and colleges also work with their APA and partner university to fund additional activity to meet specific needs.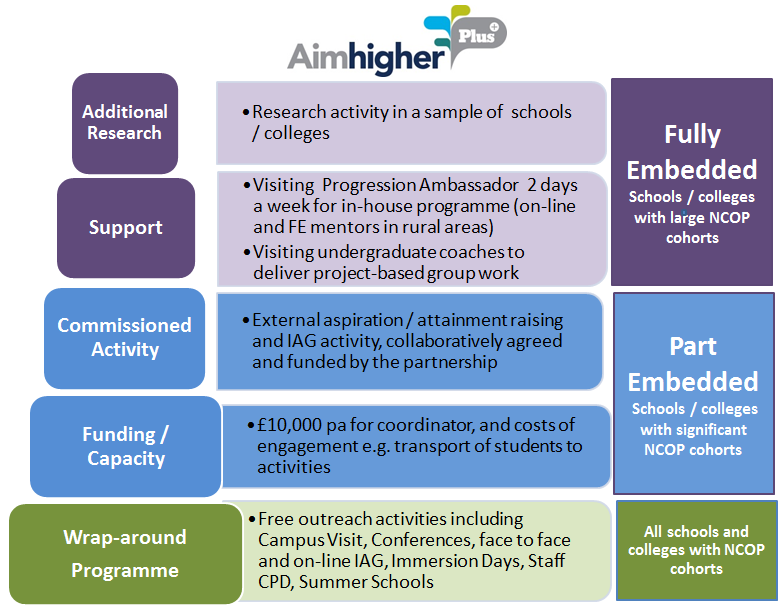 In rural areas, where distance limits opportunities for physically embedding the programme, the model has been adapted with a team of graduate ambassadors and further education mentors who provide a blended programme of online, in-person and commissioned support.
Feedback from the front line
Demand for the programme exceeded expectations, with 27 schools and colleges hosting APAs. A 'part-embedded' version has been developed to enable more to benefit from elements of the model and a 'wrap-around' programme has given all NCOP schools and colleges access to activity since March 2017. This rapid development has required significant commitment from all partners, but progress is encouraging.
Ormiston Sandwell Community Academy's NCOP students are flagged on the Information Management System and Aimhigher is linked to existing More Able, Stretch and Challenge, and Parent Partnership activity.
'Aimhigher Plus is now fully integrated into the structure of our academy,' says Sze-Ting Lee, More Able and Gifted & Talented Coordinator. 'From coaching sessions to inspirational university visits, students are aiming high and aspirations thriving. The whole academy has embraced this initiative and teaching staff are equipped with the tools and understanding to propel our students to a brighter future.'
At Balaam Wood School, Deputy Headteacher Damian McGarvey is impressed. 'Our APA Kate shows high degrees of independence and initiative, and has formed strong relationships. I've watched her lead sessions, and her powerful presence captured some of our hard-to-reach parents.'
Parent, Sue James, values the support her son, Joshua, has received at Halesowen College: 'Your APA, Cliona, has been supporting Josh with his personal statement. He's recently been diagnosed with an autistic spectrum condition and without her very informative, helpful and professional support his statement would not have been as good as it was… a brilliant scheme.'
As the Aimhigher Manager, I am delighted with progress. The NCOP has allowed us to forge new relationships with young people, parents and partners that go far beyond superficial 'one-off' encounters.
AimHigher West Midlands will be celebrating the NCOP week of action with a range of outreach events. On Thursday 7 June, Year 10 students from target schools will be competing in the Speak Out Challenge grand final having spent time honing their communication, confidence and oracy skills.
Good luck to all the finalists!
An earlier version of this blog post was published by HEFCE.
Find out more about the NCOP programme
Follow @officestudents and #WeAreNCOP on Twitter to learn more about the NCOP week of action activities.