Office for Students (OfS) student panel chair Martha Longdon outlines what students should be able to expect from their university or college, if they are asked to self-isolate on or off campus.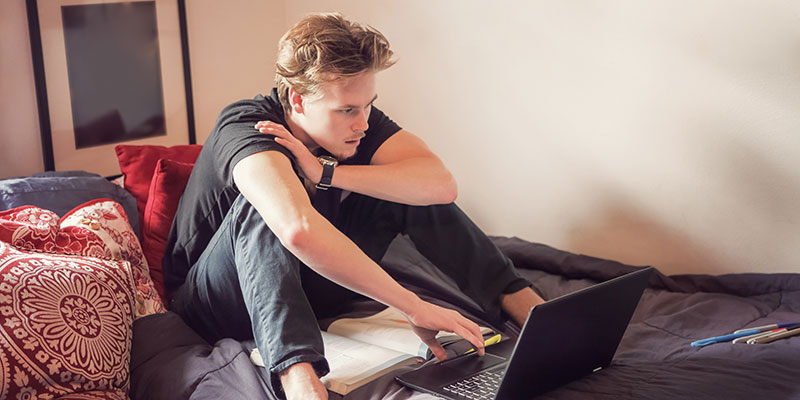 Last week, I chaired an emergency meeting of the OfS student panel. I have been particularly concerned about the impact of the current coronavirus pandemic on students who are having to self-isolate.
Earlier in the week, I agreed with OfS chief executive, Nicola Dandridge, that we should bring the panel together to share its thoughts and experiences of the current situation on campuses across the country.
The panel discussed the responses of some universities and colleges towards students who are having to self-isolate which we feel have fallen short of the kind of support we would expect as students. In some cases, there has been a lack of communication, lack of clarity in the communications that students have received, and a lack of targeted, person-centred support. As a panel we want to support students across England and to help universities and colleges deliver on what students really need.
It is our role to influence the OfS's work and it is critical that the voices and experiences of students are heard. For example, we have been clear in our meetings on the importance of students being provided with clear and reliable information on their rights as consumers. This is work that the OfS is taking forwards.
While we appreciate that the OfS is doing all it can within its power to ensure that students are being supported, we also want to challenge leaders in the sector to listen to and engage with a student-led response to the crisis.
With that in mind, the OfS student panel suggests three priority areas, which we believe cover the main things that universities should be considering in order to support students in the coming weeks and months.
1. Communication with students
'Things are changing so quickly, can we receive regular updates – at least daily?'
'How long do I need to isolate for?'
'Who do I contact for help and advice?'

Clarity in communications is critical. Universities and colleges should communicate with all students – potentially daily – in an accessible manner that is specific, clear and supportive. Updates should include information on policies for those whose studies are impacted by coronavirus, for example information on breaks from studying and mitigating circumstances.
Communication should consider students from diverse backgrounds including those who may not have family support, disabled students and those for whom English is not their first language. Universities should also consider sending general updates to parents, guardians or carers of students.
Students must know who to contact for support and know where to go for help or to raise concerns. Relevant services both on and off campus should be highlighted.
Communication should take the local context into consideration; is it relevant for everyone or just those in on campus accommodation? How might local restrictions impact students living off-campus?
2. Student wellbeing and support
'How will I get my food?'
'I don't have access to the campus prayer space, study space or laboratory, is there anyone who can help?'
'Will I be penalised if I can't attend lectures/placement?'
Universities and colleges should ensure that students can access food, medicine and domestic resources such as laundries. Students should clearly understand how long they must isolate for and who with.
Students from all backgrounds, including those with declared disabilities, should be considered and their needs supported. Providers should ensure religious or cultural observation is facilitated whilst students isolate. Food deliveries to students should cater for religious or dietary needs.
Where students are being taught online, they must have access to the equipment they need – including laptops, reliable internet and software. Universities should be clear where attendance in lectures and on placements is part of students' final marks, and what mitigations are in place should they be disrupted.
There should be clear information on where and how students can get tested. Universities should help where students in self-isolation need to provide evidence of this to part-time employers and highlight any financial support available.
3. Addressing loneliness
'I haven't been able to meet anyone on my course, how can I make friends?'
'I feel alone in a new place and I'm really homesick, who can I go to?'
'Our sports club/society/course can't meet, how can we help support our community?'
Universities and colleges should continue to build a culture of belonging in the learning community which enables students to feel supported, safe and heard. Universities should recognise that not all students are 18-year-olds living in campus halls of residence.
Combatting loneliness will be critical. Providers should consider how they can enable student-led activities. Students should be supported to get to know their surroundings where possible and build relationships with classmates and housemates.
Students self-isolating may be particularly at risk of feeling isolated or suffering mental ill health. While not all universities and colleges have onsite mental health practitioners, all can signpost to local and national support and advice.
Universities should consider creating peer to peer buddying systems, while ensuring that such schemes are supported by professional staff. Universities may also consider potential means for students to communicate with others outside of their immediate accommodation.
In addition to the three areas above, we champion student engagement and experience as part of any decision making or solution development through this crisis. The panel is working in partnership with the OfS and we urge universities and colleges to take a similar approach by working proactively with their student population, students' unions and representatives. This means universities should seek feedback from their students and meaningfully act on it. A truly collaborative response that brings student and university expertise together, will enable us to come through this unprecedented time.
Finally, we believe that universities and colleges should have expectations of their students too. If they are providing the support outlined above, and are also providing clear and fair guidance as to what students should do to keep themselves and their communities safe, then students should be expected to follow that guidance. We have a duty of care to ourselves and our communities to adhere to guidance that aims to keep us all safe, healthy, supported and allows us to keep studying.
We look forward to continuing this discussion with the OfS, with students and universities and colleges across the country.