Data published today by the Higher Education Access Tracker (HEAT) collects all outreach activities in schools and further education colleges across England.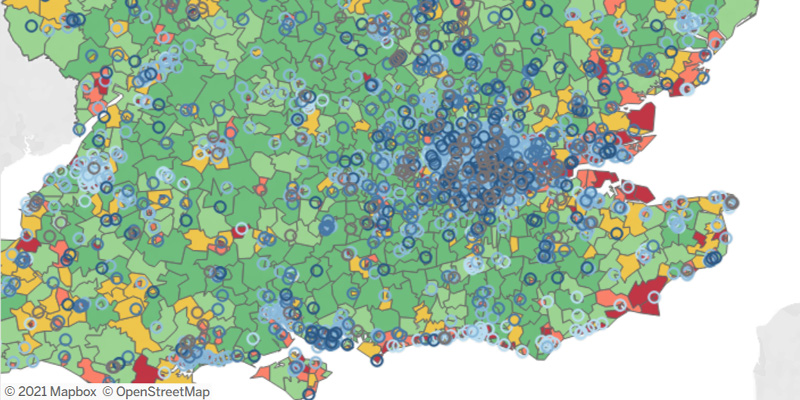 The data includes the number and type of outreach activities schools and further education colleges have received, giving higher education providers more understanding of where to concentrate their efforts.
As Chris Millward, Director for Fair Access and Participation, stated in a recent blog, there is a strong link in England between where you come from, whether and where you go to university, and your career prospects beyond that.
Higher education outreach activities and measures are designed to support equal access to higher education for underrepresented groups. They involve organisations engaging with potential students, their families and communities before making choices about entry to higher education.
Activities include mentoring, summer schools, subject master classes and visits to university campuses. These are delivered as part of the work the sector is doing through their access and participation plans, the Uni Connect programme and the work of many third sector organisations. We are optimistic that many more young people from the most underrepresented neighbourhoods will enter higher education over the coming years.
Where is outreach taking place?
A significant investment is made in outreach activities each year and we've wanted to have a better understanding of outreach coverage for some time. We were asked by government to map this across England to identify areas with lower rates of outreach and develop measures to address this. The higher education sector is served by tracking services that record, monitor and track people who have taken part in outreach activities – all done using a safe and secure system to ensure data is protected. The aim of tracking is to examine the impact of outreach activities and gain insight into whether these interventions have contributed towards student attainment and progression to further and higher education.
The OfS works closely with the three tracking providers (Aimhigher West Midlands, East Midlands Widening Participation Research and Evaluation Partnership (EMWPREP), and HEAT) and has contributed funding towards this collaborative project. The project also involved a wide range of stakeholders including universities, Uni Connect partnerships and third sector providers.
We're really pleased to support projects like this because we want to support universities and colleges to meet the ambitious targets set through access and participation plans.
What the dataset can help with
The national outreach coverage dataset is a new resource that gives a full picture of outreach across England. It includes a list of schools and further education colleges and the number and type of outreach they have received, giving anyone who is conducting outreach more understanding to support their strategic decisions.
The dataset can help outreach providers to make more informed decisions about how and where to deliver their activities – for example, a provider may use the data when deciding whether to engage a school with a particular activity that would benefit its target students or whether to engage a school they haven't worked with before. We hope it will be useful for higher education providers with access and participation plans and Uni Connect partnerships planning their strategic outreach.
The dataset and accompanying interactive maps are available for outreach providers in England to use. We hope it will be a useful resource for the sector as we work towards our shared vision and aims. We believe the dataset will be of use on its own, but it is also recommended to link it with other datasets for further analysis, for example with data on free school meals, participation of local areas and indices of multiple deprivation.
The dataset is currently classified as experimental statistics and the HEAT team are welcoming feedback.
For more detail on this, and to access the database, see the HEAT website.