'I have faced similar barriers and overcome them': Student and graduate mentors provide a crucial role for many partners in the National Collaborative Outreach Programme (NCOP). They explain what the role means to them and the young learners they work with.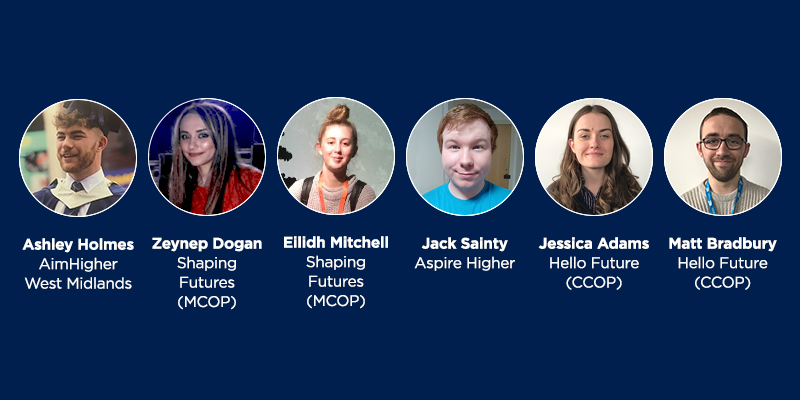 Ashley Holmes, AimHigher West Midlands:
'I was first attracted to the role after being told that I would be able to work in partnership with schools to mentor students who were from similar backgrounds to me. I have gained an insight into the barriers and issues that students within the NCOP criteria come up against - this has enabled me to respect the issues these particular students face on a day-to-day basis and learn how to meet them on a level that promotes a good beneficial outcome.

'Many students find it hard to build relationships and even talk and be honest with new staff members in school so this was crucial. Being able to act as a professional but offer an informal confidential service to the students really helps form a strong relationship with these students.'
Zeynep Dogan, Shaping Futures, Merseyside Collaborative Outreach Programme:
'I truly believe that through NCOP most students who thought you had to be from a certain background or socio-economic group to attend university have seen that proven to be a myth. This is because the NCOP has a diverse workforce where there are individuals from different backgrounds, beliefs, socio-economic groups and so on.

'Hearing stories from the student advocates gives a peace of mind to those individuals with doubts about university and higher education in general.'
Eilidh Mitchell, Shaping Futures, Merseyside Collaborative Outreach Programme:
'Across all of the schools and colleges that I have worked in, it is the lack of self-confidence in regards to university that stands out as the biggest barrier to young people. There are many possible factors resulting in this lack of confidence and it creates a dissociation with university that leads many young people to believe that it is not an achievable goal for them.

'The opportunity to show young people that university or higher education is for them, and give them the knowledge and confidence – whether that be academically inclined or not – to pursue it, is absolutely vital. Having students and recent graduate deliver the sessions to young people helps them to relate to the content. Our knowledge is up to date and vast and so to utilise that and pass it on to young people makes complete sense.'
Jack Sainty, Aspire Higher:
'I think it's important for younger students to be able to relate to those who have been in their position recently, especially current students who share the same passions.

'In my role as a Student Associate, I have been planning, running and risk assessing a project focused on educating participants about Higher Education, Health and Physical Education in a fun and interactive way. This has mostly been done through 'games making', where participants create their own game, with their own rules and with a wide selection of equipment, and they attend advice and guidance sessions throughout. These are flexible, but have mainly been focused on helpful skills for participants, such as employability, local provision of health and physical activities, and health benefits.'
Jessica Adams, Hello Future, Cumbria Collaborative Outreach Programme:
'By building rapport and relating our experiences with growing up in the local area and progressing on to higher education with the students, I think the programme is given a personality. They can relate NCOP to a face they have met or a conversation they have had. The rapport that is built directly with students can make progression routes more tangible, and I think they can start to visualise what they could go on to.

'Most of the students I meet seem to have an idea of what they would like to progress on to, whether it is rooted in family expectations or the most popular route in their local area. I think sometimes this can become a barrier. That they might only be able to visualise what they have seen their family or people in their local area do, so I think the programme allows them to think outside of what they might know or what expectations they might have. Our NCOP work provides an opportunity to explore all the possibilities available.'
Matt Bradbury, Hello Future, Cumbria Collaborative Outreach Programme:
'Within the area I work in, the main barrier in accessing higher education for the students is lack of parental support and knowledge. I often find that parents have a clear plan for their children and lack knowledge regarding higher education options and other relevant information such as student finance.

'Many students I work with have rarely left the area where they live and are reluctant to because their parents never have either. The programme really helps the students think beyond the area they live and discover what options are available to them in addition to developing their skills and confidence in multiple areas.

'For me, the best thing about being involved in NCOP is the fact I get to talk to young people, offering them advice and information to support their academic career and progression. Being able to see the looks on the faces when they learn something they didn't previously know about higher education, or when they accomplish a task they were convinced they wouldn't be able to do. That's why we do what we do and why I enjoy my job.'
Find out more about the NCOP programme
Follow @officestudents and #WeAreNCOP on Twitter to learn about the NCOP week of action activities.