Postgraduate conversion courses funded by the OfS are equipping students with digital skills to work in a wide range of industries.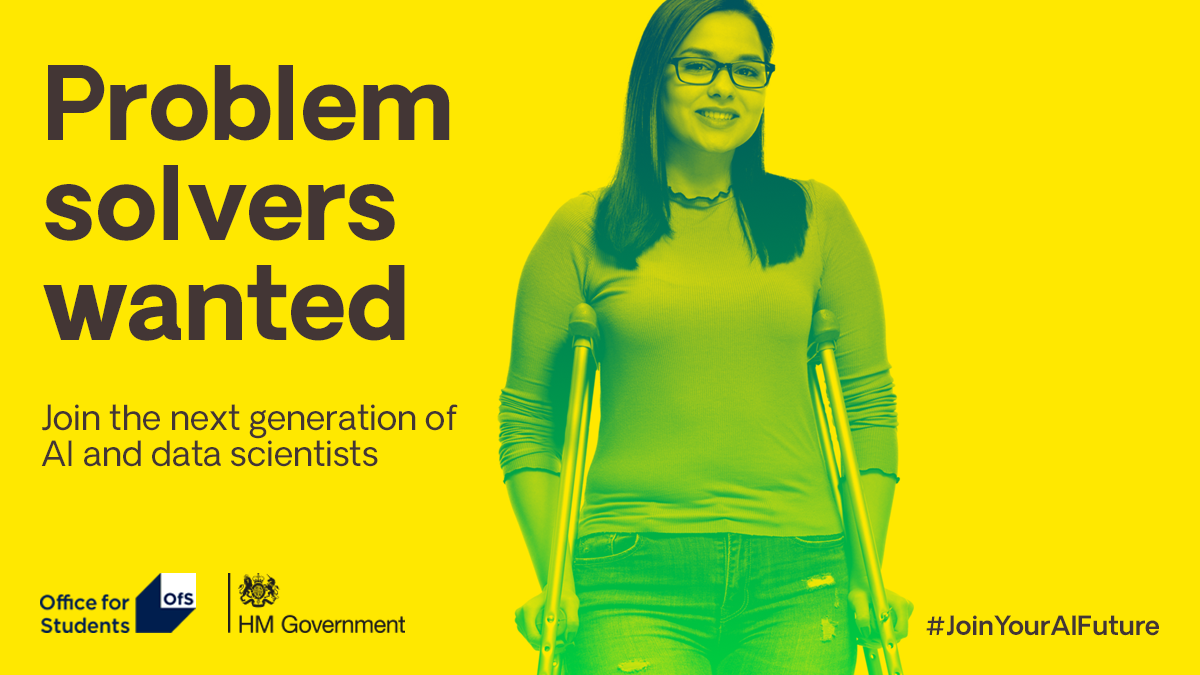 Never have any of us spent more time in jogging bottoms, taking part in virtual quizzes and apologising for leaving our mics on mute. This past year has been challenging by any standards.
But with graduation fast approaching, you may be starting to think about your next steps, whether it is to start a career, continue your education or to explore different placement or graduate opportunities.
How digital skills could be the path to your future
When you think about artificial intelligence (AI) and data science, you might picture computer programmers, circuit boards or robots. The reality is that AI and data science are more integrated into our daily lives than you may think. If you use Google Home, predictive text on your phone or you have received notifications suggesting you buy a product you had been browsing the week before, you are experiencing different examples of machine learning, a key component of AI and data science.
According to the government's Digital Strategy, within 20 years, 90 per cent of jobs will require some elements of digital skills and as the UK is home to a third of Europe's AI companies, it is a great place to start your study. With jobs in AI and data science that span a range of different industries, including medicine, transport, social sciences, biosciences, sports business and more, you don't necessarily need to have a background in STEM to get going.
New postgraduate conversion courses
In Spring last year, a new postgraduate programme in AI and Data Science launched at 18 universities across England as part of a government scheme to meet the skills demand to transform the UK's tech sector. Each course is designed to equip students with the skills needed to begin a career in the sector. And, crucially, you don't need to have an undergraduate degree in a related field – anyone with an undergraduate degree can apply.
Transferable skills
In a world where planning for one career for life feels like a thing of the past, considering how your existing skills may be transferable can be a great place to begin. You may have an undergraduate degree in languages and a talent for translation which could support sat nav voice recognition. You might excel at sociology or psychology and want to develop AI devices to understand our behaviours and cultural differences to make technology more intuitive to our needs. Or perhaps you have a creative design background and you are the perfect person to ensure digital tools are user–friendly, ergonomic and stylish. With this in mind, applications are encouraged from students from a range of disciplines.
Paid work placements
Whether you have just completed your undergraduate degree or you finished many years ago, you will be looking forward to future career opportunities. Conversion courses are designed to lead to a career and what better way to get going than to network with employers on the job, with a paid work placement. Where possible, each course offers this option.
Scholarships available
It's really important that a diverse range of people are involved in the industry to improve innovation, representation and to reduce any data or usability biases as much as possible. Therefore in partnership with the Department of Culture, Media and Support (DCMS) and the Office for AI, the Office for Students is offering 1,000 scholarships worth £10,000 each to fund study. Scholarships are prioritised for Black students, women and disabled students and may also be available for other groups.
Recruitment figures show that diversity is improving. In the autumn, just over one in five (22 per cent) of the total student intake were awarded a scholarship. Of these, 76 per cent of scholarship students were women, nearly half (45 per cent) were Black students and almost a quarter (24 per cent) were disabled students. This is a great start but we want to include even more of you.
But what about COVID-19?
These are unprecede... it's ok. We won't say it. These are undoubtedly uncertain times, but these courses have been intentionally run with flexibility in mind to appeal to a diverse range of students, who may have other work or caring responsibilities while they study. Therefore, part-time, blended and online learning may be options as well as traditional ways of learning.
#JoinYourAIFuture – apply now
The courses have varying start dates and are set to run during each Autumn and Spring intake until 2023. Find out more on the Office for Students website, which includes links to the universities for you to apply.
This article was first published in Careermap's Careermag for Graduates online magazine on Monday 25 January 2021. You can view the original by subscribing for free.