OfS commissioned research made recommendations for promoting greater gender balance in nursing and healthcare courses. Rupert Maclaren, a student in diagnostic radiography tells his story.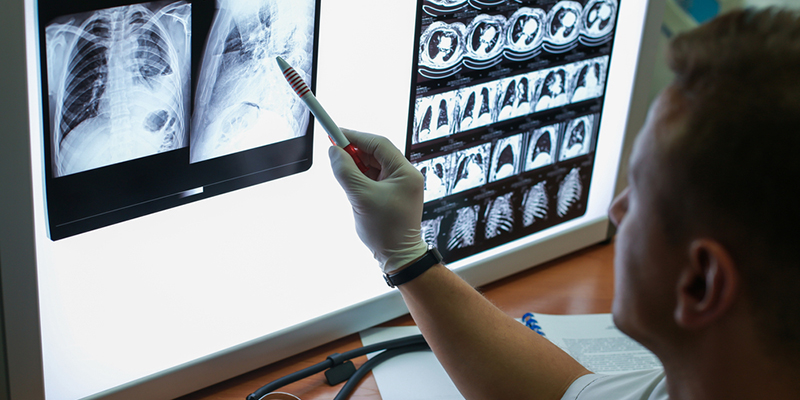 As with most people, my previous knowledge of radiography came from firsthand experience. I had a knack of falling out of windows (not always ground floor) and trees when I was younger, resulting in a couple of broken arms and a cracked skull. In 2011, an item on the evening news about promoting altruistic donation inspired me to look into donating a kidney to a stranger. The process involved a variety of different scans and imaging. I was lucky to successfully donate in mid 2012 and I can honestly say it was one of the most rewarding experiences of my life.
I'd always wanted to try and make a difference, and now I wanted to feel that at the end of a day at work too. I had been in the wine trade for 17 years and it was great fun. But it changed a lot over that time and so, it seems, had I. What I needed was a new challenge.
It's not just a case of taking X-rays…
I could see a lot of opportunities in diagnostic radiography and it soon became clear it wasn't about just taking X-rays. There's also MRI and CT scanning, sonography, nuclear medicine, reporting and consultant practice, to name a few. I did some research and, with the support of my family, I went part-time and returned to college before securing a place to study a BSc in Diagnostic Radiography at the University of Exeter. With all the courses speaking of amazing employment rates on graduation, I felt this was a risk worth taking.
Challenges and opportunities
Becoming a mature student can be financially frightening, yet support is available and the opportunities for progression after qualification are good. Being married with kids, I had extra financial responsibilities to meet, but managed by working part-time and with incredible support from my wife and family. I found various grants and other types of support available. These aren't always well signposted or easy to access, but you can find them with some research. The government also recently announced that the NHS grant will be available to student radiographers, which is brilliant.
Going back to university has given me so many opportunities that I didn't explore the first time around (this is my second degree). As well as working with the Office for Students on male participation in nursing and allied health, I've been involved with the Society of Radiographers as a student representative and Student Observer to UK Council. I was lucky enough to be chosen for the Council of Deans #150 Leaders Student Leadership Programme in 2019 for future leaders in healthcare.
Raising public awareness
Whilst I'd heard it was more unusual to be a male studying in healthcare, I haven't been particularly aware of any gender imbalance in diagnostic radiography except perhaps on one of my clinical placements. Until then, I had been more conscious of the fact that there were a lot of mature students on my course, which was great. On the placement, I was surprised to find there were only a handful of men in the whole department. This seems to be a trait across many healthcare professions, although less so in diagnostic radiography than others. I was surprised to find some patients calling me 'doctor', or assuming I was supervising the female radiographer with me, despite my university uniform and student name badge.
I don't believe the issue is just about gender though, rather a lack of public awareness of the allied health professions. This is probably not helped by the full range of roles and expertise not being accurately portrayed in the media and some hospital-based TV dramas.
Making a difference
Radiography is an amazing job. The best thing for me is the variety of work and the regular contact with patients. Working anywhere in healthcare can be challenging emotionally and it's important to have a good support network. I've met and worked with some amazing people and I think that's quite common in healthcare professions – most people are in it because they like working with people and want to make a difference.
I've talked to lots of people, particularly in their thirties and forties, with brilliant skills and experience, who would love to make a change from their current careers. I would say go for it. It hasn't been easy, but the work is so rewarding, with fantastic roles available and good promotion prospects. For anyone thinking about any kind of healthcare career, I recommend spending time in a relevant hospital department, speaking to the staff there, particularly those who have recently qualified. There are so many directions a healthcare career could take you.
Read the report on male participation in nursing and allied health courses