April is national stress awareness month, providing a great opportunity to highlight work that improves student mental health and the student experience.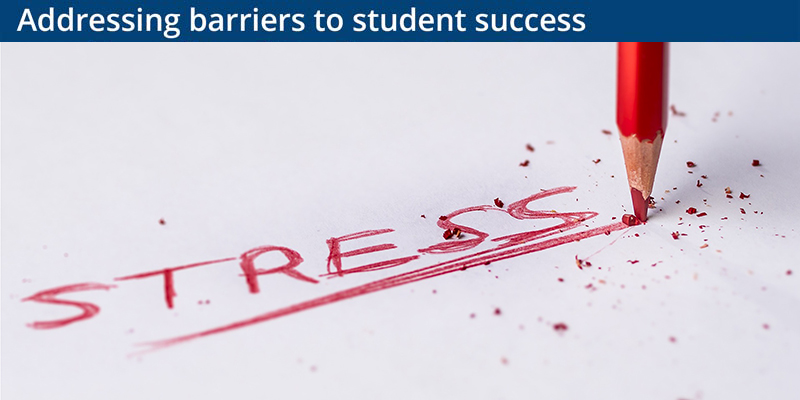 How the Catalyst Fund is supporting a new approach to student success
Approximately 1 in 4 people report a mental health problem each year - this may equate to 500,000 students per year. 50 per cent of chronic adult mental illness starts in the teenage years, and 75 per cent before the age of 24, which is the age of the majority of students.
Independent research commissioned by Universities UK (UUK) from the Institute for Public Policy Research confirmed that over the past 10 years there has been a five-fold increase in the proportion of students who disclose a mental health condition to their institution. Earlier work by the Higher Education Funding Council for England (HEFCE), found that demand for student support services increased by 150% from 2011 to 2015.
Mental health problems can be closely linked to stress. Even though some stress has been found to be positive, excessive and prolonged stressful situations can lead to illness and physical and emotional exhaustion. Or vice versa, having a mental health condition can cause stress.
To tackle these issues and ensure that students are thriving, the University of the West of England (UWE), Cardiff University, the University of York, Student Minds, and UUK successfully submitted a project bid to HEFCE's Catalyst Fund on addressing barriers to student success.
As part of this project each university is developing a mental health strategy, co-created with students and staff. Student Minds is supporting the inclusion of student voice in the project and UUK is developing a validated mental health and wellbeing audit, creating a knowledge and practice exchange platform.
Strategy and whole university approach
To develop their mental health strategies, the three universities are taking UUK's Step Change framework on mental health in higher education and piloting it. Based on their experience, the framework will later be reviewed and adapted accordingly.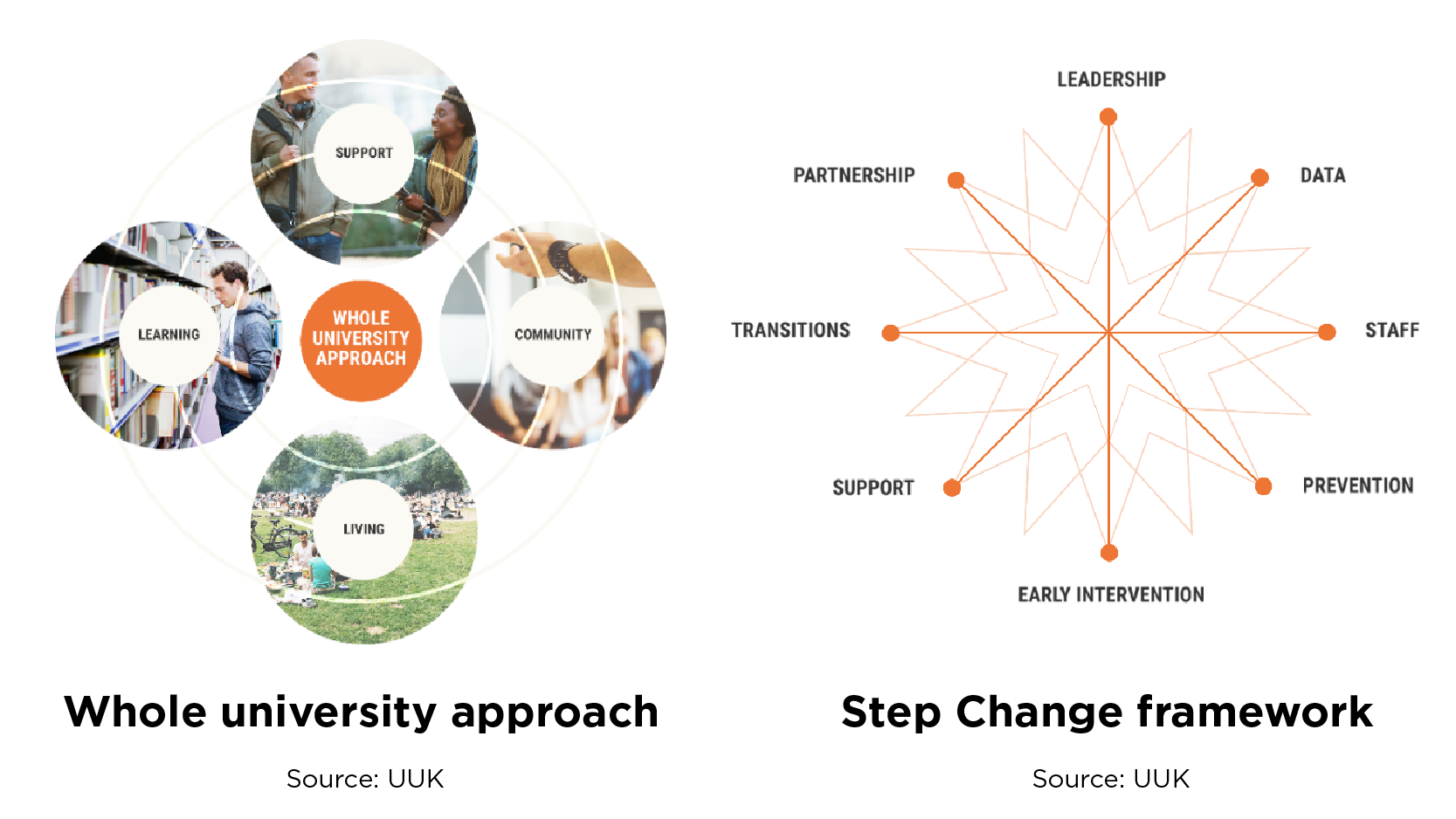 As a first step, with support from institutional leadership, the three universities are auditing their mental health and wellbeing provision. This can range from auditing the training available for all staff and various policies and procedures, to finding out what individual departments and faculties are doing.
Secondly, universities have organised formal groups that advise on developing and implementing strategy. These groups include senior members of staff, student representatives and, in some cases, external experts. The findings from the audit, feedback from students, and discussions of those groups inform the development of their strategies.
The University of York had a soft launch of its mental health strategy on 1 March, UWE launched its Mental Wealth First strategy on 11 April, and Cardiff University will be launching its strategy in autumn 2018.
Case studies
Each university is also creating interventions on a different aspect of the framework.
One element of Cardiff University's work includes a partnership with the National Centre for Mental Health to conduct a whole population survey of incoming students' mental health. They will use this to start a longitudinal study of entry mental health levels, try and develop a targeted service provision and as part of the culture change agenda.
UWE is piloting the 'prevention' element to provide a case study for the sector on implementation in this area. They have developed an emotional resilience programme that is being trialled within the curriculum, co-curriculum and through outreach, working with colleges. This aims to provide effective resilience guidance for students, embed resilience as a way to prevent mental ill health and to encourage effective signposting from fellow students and staff.
The University of York is looking at the 'data' element, focusing on collaboration between research and practice. Having obtained ethical approval, they will be using data from students who access their wellbeing services and analysing that information to inform better practice.
Step change
Our vision is to enable all students and staff to thrive and realise their potential, and to support those in distress or experiencing mental illness. We want to ensure that no one falls through the gaps or stays in the shadows. 
The step change in student mental health begins with leaders adopting mental health as a strategic imperative. It is about adopting a whole university approach, working in partnerships, sharing good practice, and involving students at all stages of the journey.