Statistics and analysis are important tools in helping us work towards equity in education and equality of opportunity for disabled students. It's also vital we understand and listen to their lived experiences.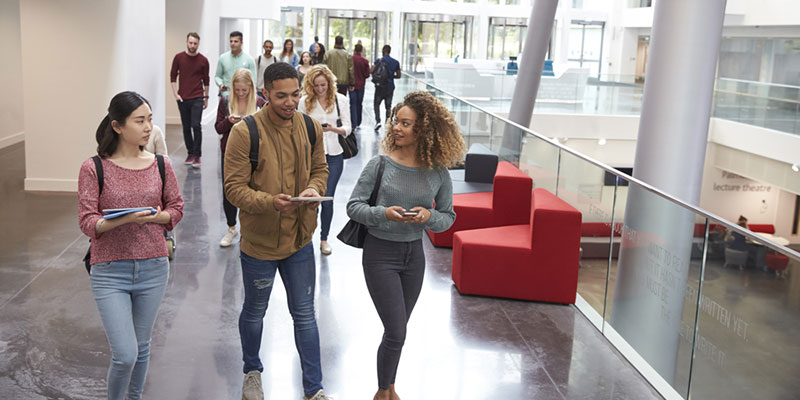 With the release of the OfS's latest Insight brief, 'Beyond the bare minimum', which asks whether universities and colleges are doing enough for disabled students, it is important to understand the people behind the statistics, and the barriers we face.
Whilst I, as a disabled person and representative of disabled students, welcome this insight into disabled students' experience of further and higher education, it is often necessary to contextualise the evidence with the lived experiences of those it talks about.
The cost of maintaining
Education is a pathway to opportunities in life, and the brief highlights that qualifications aid us in reaching those opportunities and opening the doors. However, the barriers and tolls along that path facing disabled people often come at a cost.
The Insight brief cites the University of Bristol's 'Getting things changed' report, which found that 'Disabled people faced extra labour at every level. That included managing their assessments, provision, and interactions concerning support services'. This is none truer than for disabled students. We know that adjustments are essential in mitigating the institutional barriers disabled students face. Yet it all too often requires hours of student's labour each week to access and maintain their adjustments – hours that could be spent studying or recovering. This is a labour requirement that continues into employment, meaning that as a metric of equity, employment figures can be misleading.
The cost of disability
Being disabled can be extremely expensive. The OfS Insight brief touches on how extra costs now associated with the Disabled Students' Allowances (DSA) have impacted uptake, particularly for students from low income backgrounds. But it needs also to be mentioned that this isn't an isolated issue.
Research this year shows that one in five disabled people face over £1,000 per month in extra costs associated with disability, with an average of £583 – these are costs additional to any amount covered by support funding (such as DSA) or social security (such as Personal Independence Payment). With cost caps for non-medical help (NHM), specialist equipment, and the general allowance, some disabled students have to face being classed as too expensive to fully support, and are often required to seek charity to continue in education.
The paper 'Our right to study' by the Thomas Pocklington Trust highlights some of these issues, where visually impaired and blind students are disproportionately disadvantaged by the current support structures. As a disabled student, the discussions you have with your institution on your support are frequently held in the language of cost, where the best adjustment for your learning is changed to the best value adjustment for your learning. This marketised attitude towards disabled student inclusion adds to the labour requirement, and disproportionately targets disabled students whose adjustments are inherently associated with higher costs. 
The value of inclusion
When further and higher education is discussed, we tend to use descriptive language about it being an 'experience'. With the recent launch of the Higher Education Commission on Disabled Student Experiences, the soon to be launched Disabled Students' Commission, and the current national mental health crisis, the importance of non-course related experiences is coming to the forefront.
For example, there is evidence indicating that disabled students are twice as likely to report being lonely – 28.5 per cent of disabled students reporting feeling alone daily. Throughout any student's time in education, we will be told that we can't just get a good grade – that we have to make ourselves unique. Yet when coupled with the inaccessibility of extra-curricular opportunities, the barriers disabled students face amplify the loneliness we experience.
Including disabled students and integrating inclusive practices into basic pedagogy and the wider experience can be seen as a bolt-on extra, just an additional duty for the education sector to comply with. However, inclusive practice is just good practice, for the benefit of all. With the learning management system company Blackboard Ally finding that 95 per cent of its accessibility features are used by non-disabled students, it becomes apparent that making adjustments into standard practice improves the quality of education for all students involved.
This means that disabled students aren't faced with 'othering' ourselves by being required to request adjustments. Integrating inclusive practice into standard practice reduces the expense, resources drain, and labour required of disabled students to access our education.
A final thought
We cannot fully reach equity, or liberation, without ensuring all disabled people have the chance at further and higher education. We cannot forget that to access tertiary education and beyond, a disabled person must first overcome the barriers within compulsory education.
Finally, some food for thought: we know that the employment gap for us disabled people reduces the higher the qualification we receive. Is this because those of us that reach this far are the ones most able to fit in to a world designed by non-disabled people?
Read the Insight brief
Listen to this blog post