Case study: Levelling the playing field through work-based learning
Improving graduate level employment rates for underrepresented students by scaling up existing employability interventions.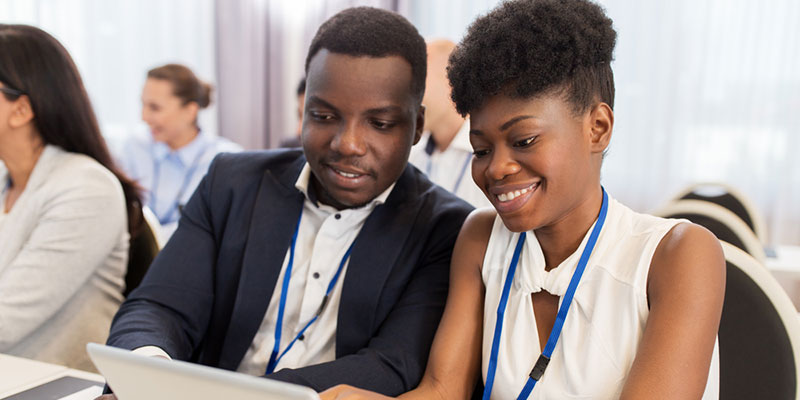 Four higher education providers collaborated on this project:
Aston University
Birmingham City University
City University of London
Ulster University.
The challenge
Data from across the four providers shows up to a 12 per cent difference in graduate-level employment for disabled students, black or minority ethnic students and students from a low socio economic background.
The project's challenge was to reduce the gap using existing employability interventions and to assess how easily these activities could transfer across providers.
Our approach
Five interventions were upscaled and actively targeted at the students who would benefit most.
Talent Bank
Aston University
Talent Bank is a placement matching service which targets students who have disengaged from the 'standard' placement process.
The scheme offers tailored support to help students re-engage to secure a year-long placement in the UK or overseas.
Professional mentoring
Aston University
The professional mentoring scheme matches business professionals with second year students to work one-to-one, helping them gain an insight into professional life.
Speed-recruitment events
Birmingham City University (BCU)
These events offer a proven way of engaging hard to reach students with businesses, using a format which breaks down perceived barriers between non-traditional students and employers.
Micro-placement scheme
City, University of London
Micro-placements are two to five week placements for first and second year undergraduate students. They support students with no previous professional work experience to explore their career options.
Accredited employability modules
University of Ulster 
Accredited employability modules have been delivered to targeted student groups with the support of course teams to ensure a streamlined embedded approach to delivering co-curricular modules.
---
The project measured student interaction and engagement with each activity and used a survey to determine the confidence and resilience of students pre and post-intervention. We also looked at career readiness data and student placement and work experience uptake.
Longer-term, the impact will be the degree to which we have closed the gap in graduate level employment rates for each of our target groups of students, as measured by the Graduate Outcomes survey.
The results
Evaluation measures at all providers showed significant positive impact on placement uptake and career readiness.
All providers showed a reduction in the gap in finding placements for our target groups of students. In some cases the gap has been reversed.
Those taking part in the interventions also showed increased levels of confidence and resilience.
Talent Bank at Aston has become an established placement matching service, targeting students who have disengaged from the 'standard' work placement process. Levels of engagement with hard-to-reach students surpassed expectations, with 487 students engaging over the two-year period (project target 240).
Survey results showed the speed recruitment events at BCU typically worked better for students studying business and creative related degrees. Those studying technical degrees did not respond as well to this type of activity perhaps because of the element of spontaneity. This learning has enabled BCU to develop recruitment practices tailored to specific group or individual needs. For example, for students studying technical degrees, there will be shorter interview interactions which will not take place within a speed networking environment.
Due to the success of the micro placement pilot at City, University of London, the Careers+ team submitted a bid to the Vice-Chancellor's Office and was subsequently awarded £100,000 to fund 100 micro placements for students across the university in June 2019.
Professional mentoring at Aston has grown from its origins in the Business School across the whole university. 75 students (project target 70) from target groups were matched with mentors from over 50 employers, including BAE Systems, BMW, BP, Capgemini, Deutsche Bank, HSBC, Jaguar Land Rover, the NHS, PepsiCo, Specsavers and Tata Steel.
At Ulster, two new employability modules have been designed to help students develop skills to confidently compete for and secure work-based learning opportunities. The modules were designed collaboratively with academics and employers using an enquiry-based learning approach, which optimises student engagement through creative and innovative learning and teaching practices.
Online employability toolkit
A key output of the project, linked to future sustainability and dissemination, was the production of an online employability toolkit to support wider sector implementation of those interventions delivered during the project.
The toolkit offers a step-by-step guide to each of the five interventions and aims to support other practitioners in successfully implementing them at their provider.
See the toolkit
Published 29 October 2019
Describe your experience of using this website
Thank you for your feedback