Transforming the West Midlands through 'reverse mentoring'
On this scheme, diverse groups of students and graduates act as the mentors to West Midlands-based organisations.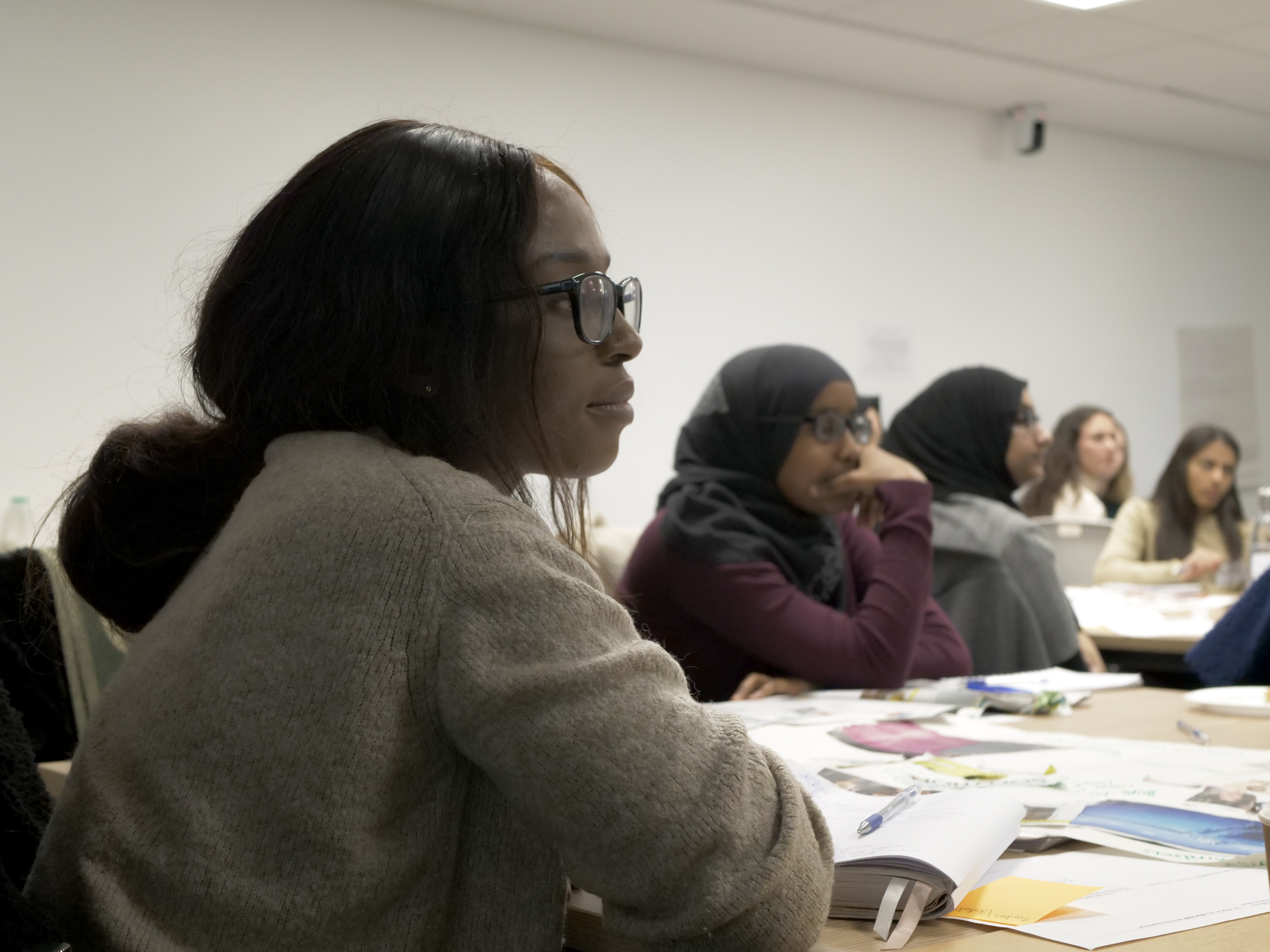 As part of the Office for Students' Challenge Competition: Industrial strategy and skills, the Transformation West Midlands project was formed to boost job opportunities for local students and graduates in the West Midlands region.
The project is particularly aimed at those from black and minority ethnic groups as well as students and graduates with disabilities who may face wider challenges to securing graduate level employment. This is a partnership project between three West Midlands-based universities:
University of Birmingham
Newman University
University College Birmingham.
The project seeks to transform in two ways:
Work with students and graduates: Provide students who are at risk of unemployment or underemployment with a progression coach to offer personalised support. Lessons learned from this personalised intervention will be used to influence the work of the wider careers service in supporting the progression of those most at risk of unemployment.
Work with employers: Build a new diverse talent pipeline for West Midlands employers through reverse mentoring. Working with partners to build a much stronger ecosystem of support leading to social mobility and higher level work. This would also help to reduce underemployment and unemployment.
The challenge
The Birmingham area is home to five universities of diverse talent, however skills gaps remain and workplaces continues to lack inclusiveness and diversity in a number of sectors.
Discussions with partner higher education institutions reveal that the majority of new graduates in non-graduate level employment in the region are disproportionately black, Asian and minority ethnic (BAME) and disabled students. These groups face particular barriers to graduate employment opportunities. 
This project aims to build a new diverse talent pipeline for the region. West Midlands employers seek to diversify their workforce, increasing innovation, economic growth and graduate retention in the region.
Processes for enabling recruiters to hire graduates exist, but the flow from marginalised groups is not working due to a range of factors, including market failure and skills gaps.
To address this challenge, the project has the following objectives:
Build an innovative ecosystem of support and involvement that gathers the views and demands from industry specialists to better understand the local economy.

Develop a programme to provide necessary skills to underrepresented groups deemed 'at risk' of unemployment and underemployment, including testing a variety of new and scaled up provision to futureproof careers.

Work closely with the key economic sectors, with a large focus on the Birmingham professional and financial services sector to fully understand sector demands.
The approach
On this scheme, students and graduates from across the three partner universities act as mentors to guide businesses in their student recruitment. The mentors give feedback, support and advice on the organisation's current graduate recruitment practices and how they should target students.
Discussions have included looking at an organisation's strategy for targeting secondary schools and universities to futureproof their workforce.
The aim is to use students' and graduates' experience, backgrounds, perceptions and ideas to modify practice. This will help pave the way to a more inclusive and diverse workforce that represents the region.
In year 1 of piloting the scheme (2019-20), it was decided to focus initially on one key growth sector (business, professional and financial services). It was considered necessary to understand local students' perceptions of this sector and why certain groups are not applying or being hired.
Four organisations got involved as mentees during the pilot year, including: HSBC, Shoosmiths, Gowling WLG & BSN Associates. Each organisation was paired with a group of 2 to 4 students/graduates from across the three universities.
The challenges put forward by the mentee organisations during the pilot year for the student/graduate mentors to solve included:
Learning about the biggest barriers those from traditionally underrepresented groups face when accessing a career in the professional services sector
Finding out how students/graduates perceive the application and recruitment process and undertake some comparative work looking at other organisations' initiatives
How, where and when to market programmes to impact attraction and what assistance students/graduates require with the recruitment process
Analysing brand perception, improving website content and increasing outreach activities
Demystifying the perceptions that the professional services sector only hires students from certain degree subject groups or with financial knowledge or experience.
Mentoring took place from January to April 2020 and participants were asked to have a maximum of three 1-3-hour meetings during this period.
A training day was delivered in January 2020 to all employer participants and student and graduates. This focused on enabling effective relationships, exploring unconscious bias, influential conversations and how participants would like to implement positive change during the scheme.
The result
Organisations were held accountable by the mentors and the project to implement suggested actions and solutions as collectively discussed throughout the mentoring journey.
Examples of what the involved organisations pledged to implement included:
running blind recruitment processes
running more informal initial screening methods so recruiters can get to know applicants in a more natural environment.
In recognition that some recruitment practices could not be amended centrally, the organisation partnered with specific student societies (faith, cultural and race based) to run employability sessions and to pilot a mentorship scheme. The scheme was developed with the aim of providing students year-round support with the application process.
Changes were made to one particular firm's website content and external communication channels when mentors identified a lack of 'people like me' role models and a general lack of information about its diversity and inclusion initiatives.
Following the success of the pilot, the scheme has been scaled up to work with organisations in other key growth sectors in year two. This will move beyond business, professional and financial services to also include health and life sciences, technology, public service and the voluntary sector.
Organisations involved in the 2020-21 scheme include: Air Liquide, Birmingham Women's and Children's Hospital, Birmingham City Council, Enterprise Rent-A-Car, Deloitte, FDM Group, Future Genetics, ICF, SOTI, Steps to Work, Teach First, Unlocked Graduates and West Midlands Police.
Organisations who were involved in the pilot scheme fed back what they had gained and what they pledged to implement as a result, as detailed below:
"From an employer perspective you tend to want the right person for the job using traditional recruiting methods, however we recognise the right person may have been overlooked due to their own insecurities or the method of recruitment perhaps not suiting them. Through the scheme, we've been able bring new ideas to life and as a result, we are looking to explore blind recruitment, as well as look to engage with students by running a few relaxed and informal social occasions as our initial screening method, so that students can chat and get to know us in a more natural environment."
"Each of the students we were paired with had different experiences and ideas and were really open and honest which we really appreciated. I didn't want to come away from this experience not having put initiatives in place, and as a result we have implemented the following initiatives:

We will be running a commercial awareness session with UCB as part of their upskilling sessions
We are partnering with the University of Birmingham Islamic Society during our attraction season this year
We will be piloting a mentorship scheme with the societies we are sponsoring this year aimed at giving students year-round support with the application process.''

"The programme offers meaningful, first-hand insight into how employers can better recruit and support a broader range of candidates; for example, how increasing awareness of our flexible working policies could help us better attract top talent from single-parent families, which make up nearly a quarter of families in the UK."
"From a diversity and inclusion perspective, the mentors flagged that the firm's website content/external communication channels were lacking 'people like me' – in particular examples of employees from disabled, BAME and lower socio-economic backgrounds. They were also surprised to learn about many of our diversity and inclusion initiatives were not clearly profiled/promoted online. The D&I/Recruitment team are already acting on this feedback with an online campaign to profile diverse role models and commitment to D&I across the business, and plans to update external website content.''
"From a graduate recruitment perspective, the mentors feedback highlighted the uncertainty and reservations candidates have regarding certain aspects (specifically the mitigating circumstances and disability/reasonable adjustments section). It provided us with the opportunity to consider how we can be clearer and more transparent in relation to why those questions are asked – we want to ensure all applicants have the ability to demonstrate their capabilities to the full. As a result of this the graduate recruitment team are hoping to schedule social media posts and to publish blogs regarding mitigating circumstances, disability and reasonable adjustments, so candidates can be reassured about disclosing such information."
The student/graduate mentors highlighted how beneficial the scheme had been for their own commercial awareness and progression:
"I found the whole experience to be very valuable, both for myself and for the organisation. It has helped me gain an understanding and a better idea about the recruitment processes of a graduate scheme and what recruiters look for in an applicant. At the same time, being able to participate in a project that allows me to make a difference and help BAME students receive an equal chance when applying for graduate schemes/jobs etc has been very rewarding. The opportunity it has given me for personal development has been incredible."
"It was great to be given the opportunity to provide guidance to employers. For instance, under the theme of attraction, we provided the employer with different strategies that they can adopt in order to attract BAME students. I valued each meeting that we had with the mentee, and it was fascinating knowing that they were taking practical steps to make a difference for the upcoming candidates."
"This experience was valuable as I was able to communicate with other mentors from different universities. It also helped with building connections with an employer from a valuable firm. I am extremely fortunate to be given this opportunity in making a change to an employee's most crucial step when applying to a firm."
Published 14 January 2021
Describe your experience of using this website
Thank you for your feedback