Birkbeck, University of London
Pathways to higher education for mature learners from the forced migrant community
Birkbeck has worked consistently with sanctuary seekers since 2016 with the launch the Compass Project, a programme for people seeking asylum who would like to continue their education at university.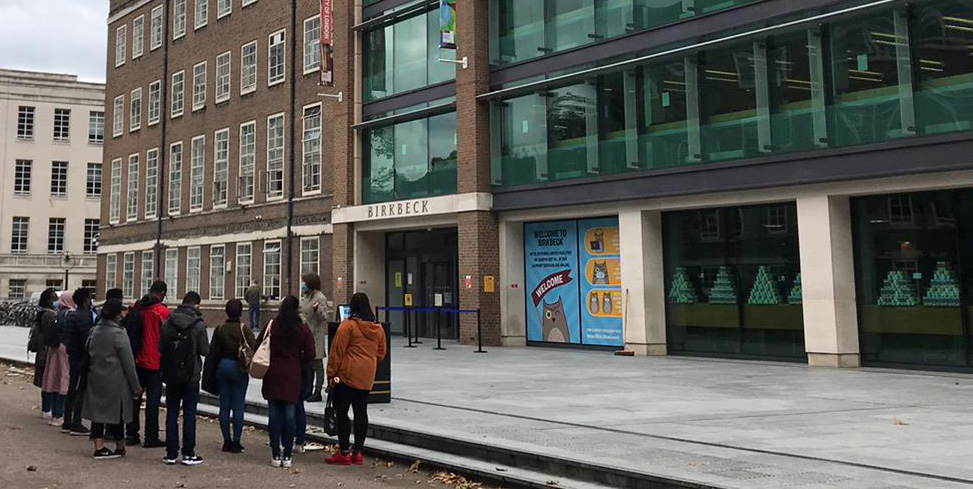 Working in partnership with local organisations in London and beyond, Birkbeck uses its expertise and experience of inspiring mature and non-traditional learners into higher education, to bring together a programme that engages individuals from the forced migrant community to fulfil their academic aspirations. The programme is divided into three main areas: advice and guidance, student funding, and community engagement.
The challenge
Although there are several institutions providing support to sanctuary seekers, mature learners are often overlooked within the provisions and the outreach support that are on offer.
The Compass Project aims to provide a pathway into higher education for mature learners from the forced migrant community, who would otherwise not be able to attend university. Our students enter the project with unique life experiences and therefore have a unique set of barriers to overcome. This is often due to their engagement with education so far. Many of the scholars who are offered a place on the programme are returning to studies after a significant break from formal education, often with non-traditional qualifications, or with no formal qualifications. In addition to this, they may be balancing their studies with commitments or competing priorities in their personal lives. A key challenge of the project is in establishing how to appropriately support these individuals to navigate the process of researching, applying, and attending university as a sanctuary seeker.
The approach
Student work with the Compass Project Coordinator from the point of application until they complete the programme. In addition to organising tailored guidance and activities for the scholars, the coordinator is able to respond to student feedback and can recommend certain interventions or signpost to areas and individuals within the college, guaranteeing the student is receiving the support they need. Support includes guidance on housing, wellbeing, disabilities, financials, digital access, and careers.
We also ensure that every scholar has a named contact within their department, to act as a mentor throughout the programme. This is a voluntary role within the academic staff that ensures the student is well supported academically and pastorally. Students are also encouraged to expand their support networks to include their peers on the Compass programme. This enables the students to build a sense of belonging and community and often results in the students sharing their advice and experiences with one another. Supporting the scholars through these interventions allows for a well-rounded package to our mature sanctuary scholars.
The benefits
The benefits of this approach are seen in either the coordinator or academic mentor identifying and resolving possible issues much earlier. These staff members advocate for the student at different points in their journey at university, and pair students with areas of the college or external partners for further guidance where appropriate.
Through our internal monitoring and evaluation processes, we regularly reflect on these provisions, building on these experiences to adapt the programme for future years.
The result
Although it is difficult to overcome or predict every challenge that comes along, the support package that is offered through the project is very comprehensive and allows us to get ahead of issues that could otherwise prevent our students from reaching their full potential.
As a result, a very high number of the students end up succeeding on their courses and with their future educational plans.
In the last two years of the project, two-thirds of scholarship recipients progressed onto other universities (including Kings', Goldsmiths, and Royal Holloway), and several were able to stay on at Birkbeck.
Students complete the programme with a qualification, experience of higher education and many have the opportunity to move onto further education pathways. Our students also feel empowered to share their experience and expertise with individuals of similar backgrounds. All of this ensures that we are offering a specialist programme within the sector that focuses on mature learners from forced migrant backgrounds.
Published 17 November 2020
Describe your experience of using this website
Thank you for your feedback