Teaching Excellence and Student Outcomes Framework
Having confidence in the quality of teaching at universities or colleges is important when you are choosing where to study.
Higher education providers have to meet a high standard of quality, which is checked by the Quality Assurance Agency for Higher Education.
To encourage excellence in higher education and help you make more informed choices, we have also introduced the Teaching Excellence and Student Outcomes Framework – the TEF.
Search for TEF outcomes by provider
Checking what matters to you
The TEF recognises excellent teaching and student outcomes, supportive environments and ways of learning, and looks at whether studying has allowed students to fulfill their potential after leaving.
The TEF also lets your university or college see how it compares to others. It encourages them to focus on teaching excellence and helps them identify areas for improvement.
Under the TEF, universities and colleges in the UK are rated as gold, silver or bronze (or provisional where there is not yet enough data).
The awards are decided by an independent expert panel including students, academics and employer representatives. 
The panel looks at a range of data as well as a paper from each university or college describing how it works to achieve excellence.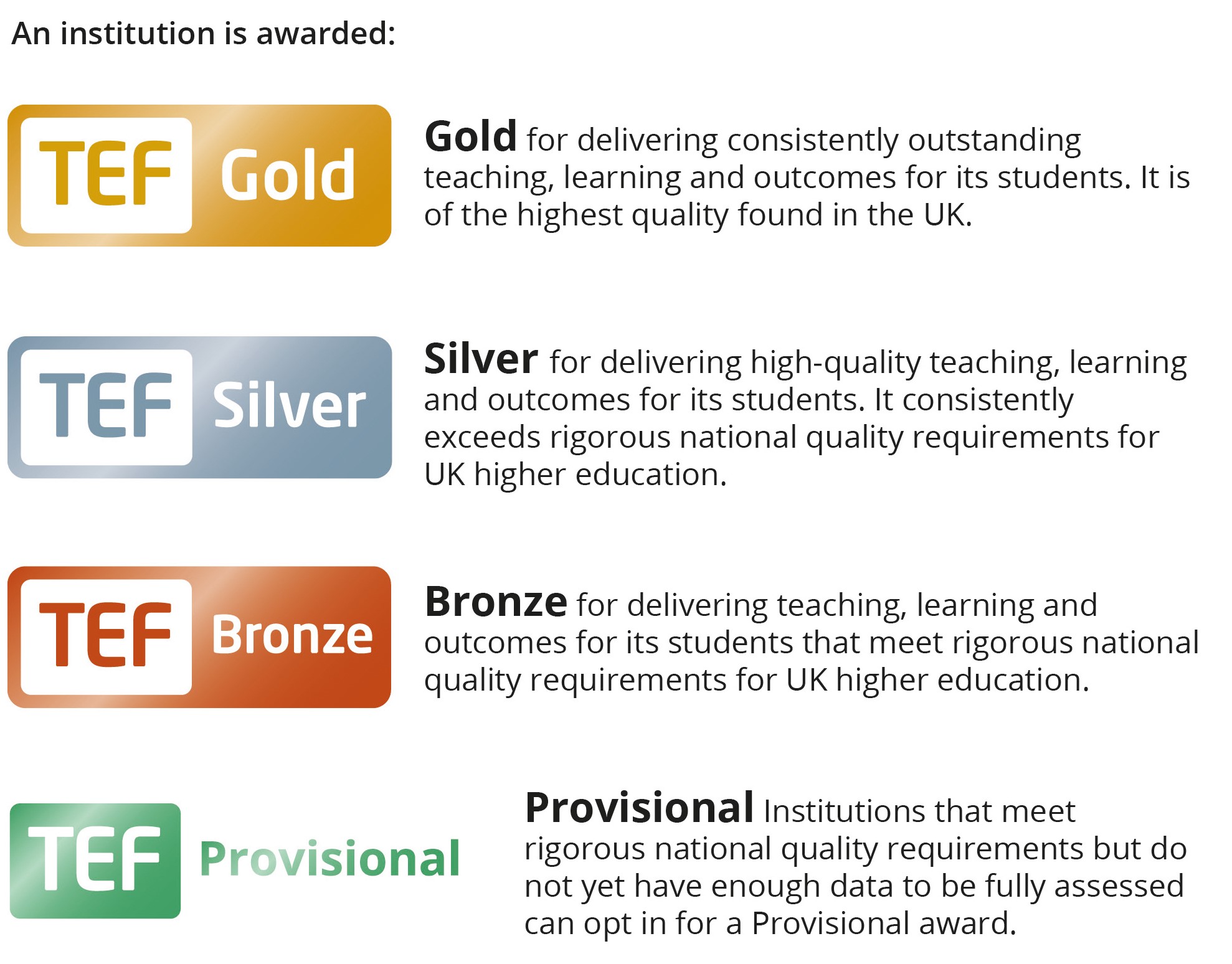 The TEF is voluntary at the moment. Most higher education institutions have a TEF award; you can check if yours has taken part by viewing the TEF results.
Alongside each award there is a summary which explains the reasons behind the result for that university or college.
The TEF currently looks at each institution as a whole. From 2020, universities and colleges will also receive TEF awards for each subject.
Getting involved in the TEF
If you are a student who is passionate about excellent teaching and a good student experience, you can have an impact by getting involved in the TEF.
Describe your experience of using this website
Thank you for your feedback