FutureHY:
A North Yorkshire approach to working with military service children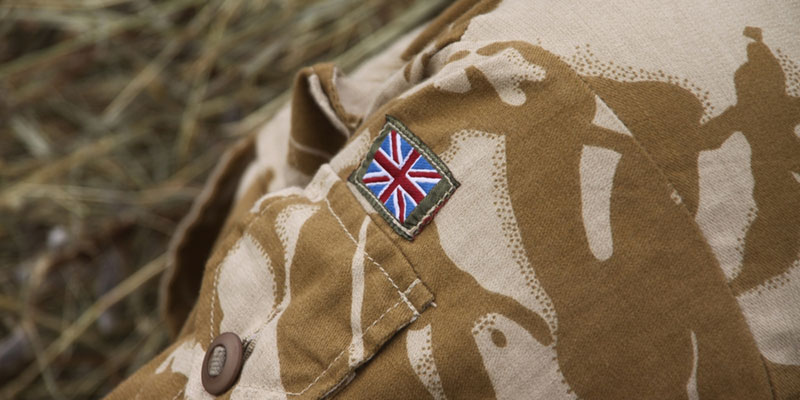 There are 3,155 school aged children living across 12 military bases within the North Yorkshire area.
Research conducted as part of the Uni Connect programme in North Yorkshire identified that a good proportion of young people from a military service background live within Uni Connect target areas, most notably Colburn in Catterick Garrison, the largest British Army garrison in Europe.
This base is due to expand, with an estimated 1,200 additional school aged service children expected by 2030.
In September 2017, a collaborative project was set up to address the educational needs of local military service children. 
The project involved:
the North Yorkshire based Uni Connect partnership, known locally as FutureHY
the University of York
York St John University
North Yorkshire County Council
York City Council.
Working with military service children is still a new idea for access and participation and as such, very little has been done so far in this area. Alongside this, the unique set of characteristics and experiences of military service children set them apart from their peers. We have developed bespoke activities to directly address this. 
The challenge
The Office for Students identified military service children as underrepresented in higher education after research from University of Winchester suggested that this cohort have particular experiences that may affect access.
This research also suggested that military service children are less likely than their peers to go on to higher education despite achieving well academically.
'Service children could be characterised as GCSE achievers who do not progress to higher education as we would expect.'

The University of Winchester, Further and higher progression for service children: research paper
The aims of our project were twofold:
to investigate and address the needs of a new OfS target group – children from military families
to increase the number of military service children applying to higher education.
Engagement with the military service sector was a new initiative, particularly for partners within higher education.
The approach
Having identified these key aims we set out five ways we hoped to achieve them:
Development of a collaborative regional network which can also contribute to the wider Service Children's Progression (SCiP) Alliance partnership. This partnership, led by the University of Winchester and supported by the Ministry of Defence, brings together stakeholders to improve the education progression of the children of service personnel and veterans.
Development of relationships and outreach activity with schools and communities which have a significant military service population.
Inclusion of the learner voice to understand the reality of being a military service child and to inform future practice.
Advancement of research within this academic field.
Provision of continuous professional development opportunities for educational stakeholders to raise awareness and address the issues of military service children.
What did we do?
Uni Connect staff walked around the target wards to find the primary school, secondary school, colleges, community groups, council education services and armed forces support services which were key to the development of the project.
They also looked at national initiatives to better understand this group of learners, most particularly the SCiP Alliance.
Meetings took place with potential partners to develop a deeper understanding of local needs, particularly the issues facing military service children and those working with them, and an audit of existing support was undertaken.
An understanding of where shared goals existed allowed Uni Connect staff to identify opportunities for collaboration. The mapping exercise allowed us to identify:
gaps in provision
opportunities to enhance existing activity.
We developed collaborative outreach activities such as Creative Forces Days, and supported continuing professional development for teachers. We also invited relevant partners to engage with existing higher education outreach.
We also provided financial support for an MSc research student in 2018-19. Their project investigated the views, opinions and experiences of military service children and their parents to ascertain the reasons why so many are not progressing into tertiary education, despite having the entry requirements to do so.
The result
Creative Forces Days have been delivered two years running, developing the SCiP Alliance template.  
This event has two outcomes:
to provide a taste of higher education for military service children
to give them an opportunity to talk about their experience of being a service child within their own community.
So far 160 pupils from five schools have attended a Creative Forces Day, and the University of York has funded a similar day for primary school pupils.
The evaluation of the event for secondary schools showed that 86 per cent of the students were 'definitely' or 'likely' to apply to enter higher education – with 54 per cent of this cohort stating the Creative Forces Day had affected their decision on this.
82 per cent of students also indicated that the Creative Forces Day had increased their knowledge of higher education. Reflecting on the day, students said:
'I have learned more about universities and what I would want to do in the future'
'I have learned that I can always accomplish what I want if I try'
'I have learned about how university is so diverse and accommodates every single person'
'I feel I have learned how to communicate to others about my situation'
Teachers accompanying students on the Creative Forces Days received a continuing professional development workshop from the North Yorkshire County Council strategic lead for military service children.
In July 2018 follow up workshops on what it's like to be a military service child took place in schools, with the aim of designing and producing posters that could be distributed to schools and colleges. 
The application of our methodology and the results have been shared with North Yorkshire stakeholders and nationally via workshops and presentations.
What has been the impact?
The project has directly influenced the policies of both the University of York and York St John University, which have now included the military service child cohort in their access and participation plans.
One out of area further education college has developed a tick box on their admission form so that they can monitor and track this cohort, and more expected to follow.
A successful local network has been created, serving as a space for professionals and academics to meet, discuss and share best practice. The network is crucial to the success of the approach as it brings together local experts and provides opportunities to shape the national policy through links with the SCiP Alliance. 
Strong relationships with the SCiP Alliance, Uni Connect, higher education academics and council education services have facilitated the development of robust evaluation tools and practice.
Describe your experience of using this website
Thank you for your feedback