Case study: Improving progression rates to taught postgraduate study
Are taught postgraduate students under-recognised partners for supporting widening participation?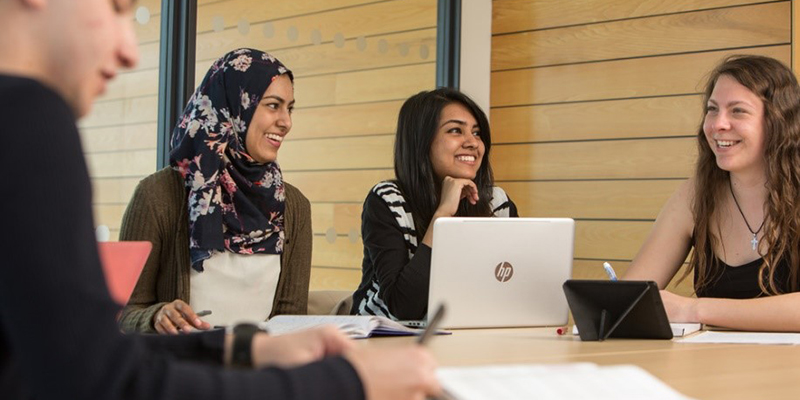 Engaging current undergraduate students to support the delivery of widening participation activity is common practice. It is often assumed that taught postgraduates on intense single-year courses would have little time to engage in the same way, but the University of Leeds found that they are equally keen to pass on the benefits of their experiences.
The challenge
Working with students to support widening participation is common in higher education, as they can often act as the best positive role models to other prospective students. Yet the majority of student volunteers approached are often undergraduates or research students. Both are student groups who develop long-term relationships with their university over several years and whose courses are likely to have some less intense periods when volunteering opportunities might be explored.
Taught postgraduates on the other hand are typically on year-long courses (if full time) that are compact and intense, and they could also be settling into a new institution or new subject. One might imagine, then, that taught postgraduate students would be a difficult group of students to engage to support widening participation initiatives.
Our approach
The Universities of Leeds, Manchester, Sheffield, Warwick and York are currently undertaking a two-year project on improving progression rates to taught postgraduate study among students from neighbourhoods with low rates of participation in higher education and from Black, Asian or minority ethnic (BAME) backgrounds.
They have created a video that shares some of their key learnings about engaging with students from underrepresented backgrounds and further study.
One of the unexpected findings of this project has been the eager enthusiasm of students on taught postgraduate courses to engage with widening participation activities.
The project has primarily engaged with taught postgraduate students via a mentoring scheme for final year undergraduates. Moreover, master's students have also shared their experiences and perspectives via webinars, videos, skills training workshops and focus groups.
Over 600 postgraduates have offered to take part in a scheme to mentor final-year undergraduates

Around 60 have taken part in webinars, videos or events

A call for BAME postgraduates to attend a focus group resulted in over 40 expressions of interest in under a week

10 Postgraduate Ambassadors have supported the delivery of a pre-arrival online course for postgraduate taught offer-holders.
Such support from postgraduates is especially valuable given the importance of peers and informal networks as sources of advice and guidance highlighted by the 'Causes of differences in student outcomes' report.
The results
Feedback suggests that postgraduates have been motivated to take part by an altruistic desire to help other students. Many highlighted that they wished they had received more support and guidance while they were making their own postgraduate choices, and saw our programme as something they would have found useful. Two of our postgraduate contributors reflect on why they took part and how they found the experience.
Farkhanda Khan, studying an MSc in Management at the University of Leeds, took part in the Discover Postgrad mentoring scheme in which current master's students were paired with final-year undergraduates to share their perspectives and advice:
Overall it has been a great experience being a mentor for the Discover Postgrad mentoring scheme. I really enjoyed meeting my mentee and getting to know her over the few months. I chose to take part in the scheme as I thought it was a great idea and wanted to help other students with what I had learnt as a postgraduate.

I loved how the scheme was informal and flexible as well as how it tailored to supporting both the mentors and mentees' needs. I personally developed my own self-confidence and key interpersonal skills whilst mentoring.

Having also studied my bachelor's degree at Leeds, I really wish I had a postgraduate mentor when I was deciding whether to do a master's. Meeting actual postgraduate students who can reflect on their personal experiences is really insightful and encouraging. Hopefully, my mentee found my advice useful and she's continuing master's study at Leeds!
Ben Reid, studying an MSc in Forensic Speech Science at the University of York, presented in Discover Postgrad workshops on skills for postgraduate study and was also filmed talking about his master's experience:
I volunteered to take part in the Discover Postgrad scheme because I wanted to help inform undergrad students about what a master's looks like. Around the same time last year, I was weighing up the benefits of doing a master's and these sessions would have been immensely helpful for me, so I was keen to take part in making the whole process more informed and ensuring students were clued up to the benefits of postgraduate study.

I think this scheme will get more people considering master's study. It was particularly good at involving departments and current students themselves, rather than university-wide marketing or just lecturers. While videos are easy to distribute, the live event we did was really fun!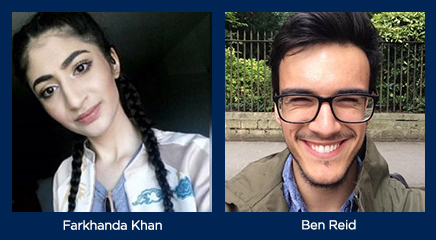 The future
The project partners are now considering how best to work in partnership with master's students in future to support access initiatives for all levels of higher education.
The project is run by a consortium comprising:
Case study author: Katherine Butler, OfS Project Consortium Manager, University of Leeds
Published 02 January 2019
Describe your experience of using this website
Thank you for your feedback