Experimental official statistics
Official statistic: Key performance measure 8
Diversity of provider choice within subject
There is more diversity of provider choice within subjects for UK-domiciled students in full-time higher education courses than for students in other domiciles or modes of study.
Updated March 2021: please note there has been a change in the population used to derive this measure since the last update. Further details can be found under Updates further down the page.
What does this show?
There is diversity of choice between providers within subject for full-time higher education for UK-domiciled students, but less diversity of choice in markets for part-time, distance learning and students in other domiciles.
Students on part-time or distance learning courses may have fewer providers to choose from in their subject area compared to full-time students.
Students' choice of providers varies between subjects. In 2019-20, the subject area with the least diversity of provision for UK-domiciled full-time undergraduates was veterinary sciences, followed by combined and general studies. Although neither of these subjects is a 'highly concentrated' market, according to the Competition and Markets Authority definition.
The subject areas with the most diversity of provision include social sciences, biological and sport sciences and computing.
Get the data
About the measure
This measure examines provider choice for students in subject area, domicile and mode of study – for example full-time, part-time or distance learning.
A diverse sector is important for promoting student choice. More providers offering a subject allows for students to select courses and providers most suitable for them. This also facilitates competition between providers which can raise quality of provision.
KPM 8 uses market concentration to estimate the diversity of provider choice available to students within each subject area. It is calculated using the number of providers in each domicile and mode of study and the proportion of students at each provider offering courses in each subject area. These are used to show the Herfindahl–Hirschman Index (HHI) for each subject area.
A subject area with high concentration suggests a low number of providers offering the subject, or a large portion of students concentrated at a small number of providers. Students in a highly concentrated market have less choice in selecting their provider. More choice would enable students to select options better suited for them.
The HHI ranges from 1 to 10,000, where 1 represents a perfectly competitive market and 10,000 represents a monopoly. The Competition and Markets Authority defines any market with an HHI exceeding 1,000 as concentrated and any market exceeding 2,000 as being highly concentrated.
When viewing these figures, it is important to note the following:
The measure changes between the academic years 2013-14 and 2014-15 due to the increase in reported alternative providers. Alternative providers were regarded as providers which were not further education colleges and which did not receive recurrent funding from the OfS (see HESA for more information). Alternative providers were first required to return data to HESA in 2014-15, leading to an increase in the number of reporting providers in this year. As a result, the increase in the number of providers from 2014-15 is partially due to the change in coverage, and partially due to an increase in alternative providers and other providers.
A new subject coding system, the Higher Education Classification of Subjects (HECoS), was introduced in the 2019-20 academic year. This replaced the Joint Academic Coding System (JACS) used in previous years. For all academic years in this release, the OfS maps subject codes (both JACS and HECoS) to broad Common Aggregation Hierarchy (CAH) groups. This change from JACS to HECoS causes some additional variation in the distribution of subjects between 2018-19 and 2019-20 on top of the usual year-on-year variation, which can also be due to changes in the providers reporting to HESA. This should be taken into consideration when drawing comparisons between these two years.
In using market concentration as a proxy for the diversity of choice within each subject, the OfS does not suggest that we have formed any views on the scope of economic markets or market power in the higher education sector for any purposes, including those relating to competition law and merger control.
The equation for calculating KPM 8 is displayed below: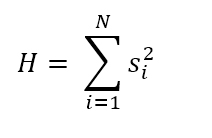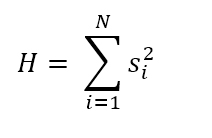 Where:
H = concentration index for students
N = total number of providers
S = proportion of students at provider i
Updates
Data for the 2019-20 academic year is now included
We have updated this KPM to further align with the student population used in our access and participation dashboard where possible. While the access and participation data dashboard restricts its population to UK-domiciled students, this KPM does not. For more information see the field IPACCEXCL in our 2020 core algorithms document
Student numbers are now supressed when fewer than 23 students exists  within a given group
Dotted lines have been added to the charts to indicate the changes to subject mapping, as well as the increase in reported alternative providers
A bar chart for the most recent year is now shown in the header for this KPM.
Please note that figures from previous statistical releases may differ from the most up to date release. This is due to data amendments and differences in methodology, which are outlined in the 11 March 2021 section above.
Feedback
If you have any queries, feedback or suggestions about the statistics published in KPM 8, please contact Stanley Rudkin at [email protected].
If you have any queries about our overall approach or on individual measures, please contact Josh Fleming at [email protected].
Published 08 December 2020
Last updated
11 March 2021
+ show all updates
11 March 2021

Annual update and population change
Describe your experience of using this website
Thank you for your feedback