Official statistic: Key performance measure 8
Diversity of provider choice within subject
There is more diversity of provider choice within subjects for UK-domiciled students in full-time higher education courses than for students in other domiciles or modes of study.
What does this show?
There is diversity of choice between providers within subject for full-time higher education for UK-domiciled students, but less diversity of choice in markets for part-time, distance learning and students in other domiciles.
Students on part-time or distance learning courses may have fewer providers to choose from in their subject area compared to full-time students.
Students' choice for providers varies between subjects. Those looking to study medicine, dentistry and veterinary sciences may have less choice than students looking to study business and management subjects.
Get the data
About the measure
This measure examines provider choice for students in subject area, domicile and mode of study – for example full-time, part-time or distance learning.
A diverse sector is important for promoting student choice. More providers offering a subject allows for students to select courses and providers most suitable for them. This also facilitates competition between providers which can raise quality of provision.
KPM 8 uses market concentration to estimate the diversity of provider choice available to students within each subject area. It is calculated using the number of providers in each domicile and mode of study and the proportion of students at each provider offering courses in each subject area. These are used to show the Herfindahl–Hirschman Index (HHI) for each subject area.
A subject area with high concentration suggests a low number of providers offering the subject, or a large portion of students concentrated at a small number of providers. Students in a highly concentrated market have less choice in selecting their provider. More choice would enable students to select options better suited for them.
The HHI ranges from 1 to 10,000, where 1 represents a perfectly competitive market and 10,000 represents a monopoly. The Competition and Markets Authority defines any market with an HHI exceeding 1,000 as concentrated and any market exceeding 2,000 as being highly concentrated.
When viewing these figures, it is important to note the following:
The measure changes between the academic years 2013-14 and 2014-15 due to the increase in reported alternative providers. Alternative providers were regarded as providers which were not further education colleges and which did not receive recurrent funding from the OfS (see HESA for more information). Alternative providers were first required to return data to HESA in 2014-15, leading to an increase in the number of reporting providers in this year. As a result, the increase in the number of providers from 2014-15 is partially due to the change in coverage, and partially due to an increase in alternative providers and other providers.
In using market concentration as a proxy for the diversity of choice within each subject, the OfS does not suggest that we have formed any views on the scope of economic markets or market power in the higher education sector for any purposes, including those relating to competition law and merger control.
The equation for calculating KPM 8 is displayed below: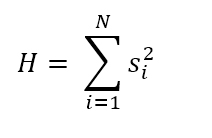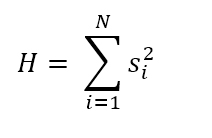 Where:
H = concentration index for students
N = total number of providers
S = proportion of students at provider i
Published 08 December 2020
Describe your experience of using this website
Thank you for your feedback